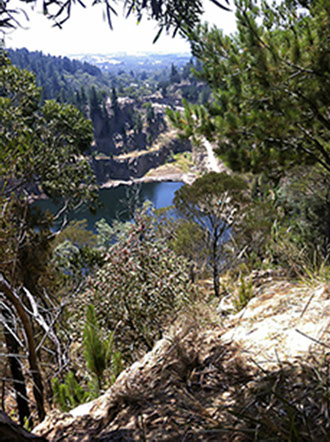 AN old quarry on the eastern side of Arthurs Seat could become the Mornington Peninsula's newest rubbish tip.
Hillview Quarries, owned by R E Ross Trust, is expected to submit an application to the shire council in about four weeks.
The landfill plan would see the former Pioneer Quarry, which is east of Arthurs Seat State Park and north of Arthurs Seat Rd, used to dump household waste – 75 per cent from the shire and 25 per cent from outside. Up to 100 trucks a day would enter the bush precinct off Boundary Rd in Dromana.
The proposal has raised the ire of near neighbours on Boundary Rd as well as residents of Arthurs Seat Rd and is likely to generate widespread criticism by environmentalists.
Objectors include Jacinta and Kelvin Banks, whose property adjoins the Pioneer Quarry land, their next door neighbour Peter Guy, Andrew Rey­nolds of Boundary Rd, long-time Dromana resident John McLean-
Wilson and several residents of Arthurs Seat Rd.
They are concerned about potential noise, smell, fire, leaking methane gas as the tip fills, extra traffic and loss of property values.
Mr McLean-Wilson said authorities should "find a different way to dispose of waste apart from burying rubbish in the ground".
A recycling centre would remove the need to dump as much rubbish, he said.
"I've never objected to anything before, but would be prepared to chain myself to the gate to stop this tip."
Jacinta Banks, who has lived on Arthurs Seat for more than 25 years with husband Kelvin, where the couple has raised three boys, said the proposal would turn Dromana into "an industrial town instead of a tourist town".
"The old quarry is surrounded by pristine, green wedge land that is protected by planning overlays for bushfire, significant landscape, vegetation protection, erosion management and environmental significance," she said.
Kelvin Banks said objectors were fearful that if the Pioneer Quarry proposal was approved, "Hillview will ask to turn its existing quarry into a tip when it reaches the end of its life".
Peter Guy said there would be a hue and cry from Arthurs Seat Rd residents when they found out about the plan.
"Hillview Quarries owner R E Ross Trust claims it is a friend of the environment, but this is an act of environmental vandalism," he said.
Andrew Reynolds said he was concerned about noise and smell, but the biggest worry was fire.
A fire starting in the proposed tip could race up Arthurs Seat and threaten Red Hill Consolidated School and its 460 pupils as well as residents, he said.
"A fire could spread to Main Ridge, which has limited road access."
He said the proposed tip was a "scandalous proposition" from Ross Trust, which had financially supported good work for the environment.
Objectors' concerns about fire are based on recent history: a big fire burnt part of the mountain near the chairlift and western side in January 1997.
In January 2008, a fire alleged to have started when a tree fell on power lines near the bottom of the mountain burnt several hectares near the Pioneer Quarry area. Luckily the wind was from the south and the blaze travelled northeast.
Authorities closed Nepean Highway, Boundary Rd, Collins St, Shergolds Lane and White Hill Rd.
Dromana councillor Graham Pittock said the shire's landfill off Truemans Rd in Rye would be filled in about five years.
"We have to do something, but I want to see the proposal before making further comment," he said.
R E Ross Trust CEO Sylvia Admans could not be contacted for comment before deadline.