THE Johnny Famechon statue project is being revived by the Australian National Boxing Hall of Fame.
Hall of Fame president Brett McCormick met Frankston MP Geoff Shaw earlier this month to seek his support.
Mr McCormick was accompanied by Johnny Famechon statue committee members Rob McCarthy, Gary Luscombe and Arnold Thomas as well as the man himself, world boxing champion Johnny Famechon, who now prefers to be called John.
"Fammo" lives in Frankston with his wife Glenys.
The champ achieved worldwide fame after his epic title fights with Fighting Harada of Japan.
Born in France in 1945, Fammo has called Frankston home since 1970. He has been actively involved in the community, including helping police run the Frankston Blue Light Boxing Club for young people.
He became WBC Featherweight World Champion in 1969 after defeating Cuban Jose Legra on points at the Albert Hall in London.
He twice defended his crown against Fighting Harada during brutal battles.
With a career record of 56 wins (20 by KO), six draws and five losses, Fammo was inducted into the World Boxing Hall of Fame in Los Angeles in 1997 and the Frankston Hall of Fame in 2008.
The life-sized bronze statue was first proposed in early 2011 when Rob McCarthy and Sydney sculptor Stephen Glassborow offered Frankston Council the $150,000 statue free of charge.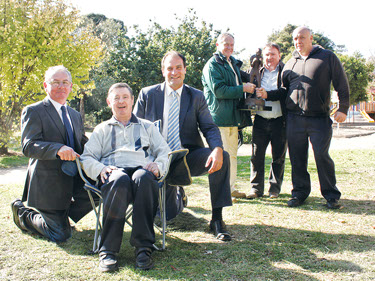 The project lapsed when a report from council officers said it would cost $45,000 to erect "Fammo" at the preferred site in Ballam Park. Councillors decided not to spend more than $10,000.
The cost was based on what Baw Baw Shire paid to erect the Glassborow statue of Lionel Rose in his home town of Warragul, which included a granite base (or plinth) and extensive landscaping.
Other Stephen Glassborow statues include legendary cyclist Sir Hubert Opperman in Rochester, Victoria, and champion footballer John Coleman in Hastings.
The Famechon statue will be paid for by the sale of 15 maquettes, or statuettes, of the original for $12,000 each.
The statue cost has risen to $180,000 since 2011.
The statue committee aims to raise the money over the next 12 months by selling maquettes, replicas of the plaque that will be displayed at the base of the statue and at a fundraising dinner next month.
Fammo was badly injured when hit by a car while jogging in Sydney in 1991, sustaining horrific injuries.
In 1993 he started a radical and demanding rehabilitation program to improve his acquired brain injury.
After three months he took his first steps. He now walks with the help of a walking stick and his speech and memory have improved.
At his Frankston home, Fammo works out for several hours every day to keep his body going. He has also trained with exercise coaches and swims two or three times a week.
In June 1997, Fammo walked down the aisle at his wedding to long-time girlfriend Glenys, fulfilling a promise he made to her four years earlier that they would marry but not till he could walk unassisted.
– The Johnny Famechon statue fundraising dinner is at 6.30pm on Wednesday 19 June at Frankston RSL. Tickets cost $90 a person and include a three-course meal and drinks at bar prices. Book with the RSL on 9783 2288.