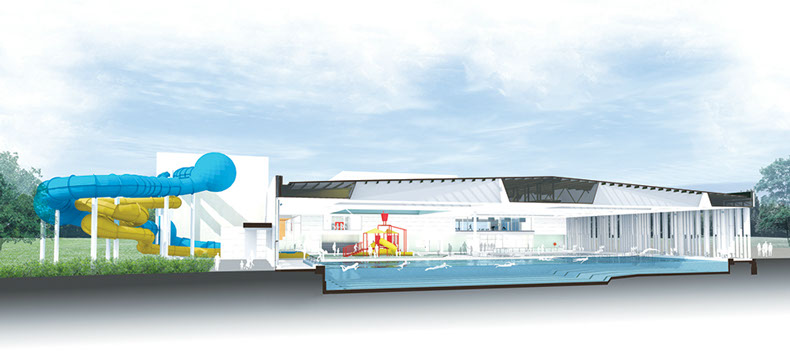 THE cost of Frankston's aquatic centre has risen $3.35 million from $46.35 to $49.7 million.
Frankston Council chief executive Dennis Hovenden said the increase came when the council approved the final design and awarded the tender for its construction to builder ADCO.
"One of the final design decisions by the council was widening of the main pool hall concourse, which increased the size of the building by about 1200 square metres," he said.
Australian construction company ADCO recently built the Greensborough Regional Aquatic and Leisure Centre and is completing the Hawthorn Aquatic and Leisure Centre.
On Tuesday, the council announced the Frankston Regional Aquatic Centre on Cranbourne Rd would have an Aquasphere family raft ride, a world first.
The centre also will have a Constrictor slide, similar to a ride at Wet'n'Wild on the Gold Coast.
The Aquasphere "features high-speed twists and drops, fully enclosed spheres with light and sound shows and thrilling 90-degree corners", the council said.
Constrictor has "a series of spine-tingling spirals and tight high-banking turns, making the centre a perfect destination for families who want to get wet and have loads of fun".
"The family slide complex – which also includes an interactive aquatic playground for young children – is being provided by Whitewater West, the world's original waterpark and attractions company [with more than] 700 installations in waterparks worldwide.
The mayor, Cr Sandra Mayer, said the city was "incredibly thrilled to unveil the world's first Aquasphere at our centre and know it will be an outstanding attraction for the local community and beyond".
Aquatic centre manager Bruce Mackay said Whitewater West had "an excellent reputation for innovative attractions and designs".
The centre is due to open in mid-2014 and will include:
A heated indoor Olympic-size 50-metre pool with movable boom.
Learn to swim pools and children's pools.
Aquatic playground area.
The two waterslides.
Warm water exercise pool, spa, sauna and steam room
Gymnasium.
Exercise and fitness rooms.
Café, shops and creche with occasional care.
Health and wellness centre
Environmentally sustainable design.
The council has $12.5 million from the state government and $13.5 million from the federal government for the project.