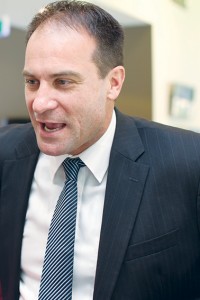 PROPOSED boundary amendments to the state electoral district of Frankston could seriously imperil Geoff Shaw's re-election prospects, despite the former Liberal and now independent MP welcoming the potential changes.
The Frankston MP applauded the Vic­torian Electoral Boundaries Commission announcement last week proposing Frankston North be included in his electorate, despite the area being a Labor stronghold and his own seat being highly marginal.
The EBC is calling for public suggestions and objections to its proposed redivision of electoral boundaries, which will affect the vast majority of electorates in Victoria.
But Mr Shaw said he was more than happy with the proposed changes, des­pite Frankston North being dominated by ALP loyalists and the fact an estimated 6000 voters in the area could go against him. "I welcome Frankston North into my electorate," he said. "Over many, many years, Frankston North has been neglected by Labor and local MP Jude Perera, who has been responsible for representing this community and the local residents.
"This has resulted in many calls from residents to my office since being elected.
"On many occasions, I have stepped in and helped to support this community."
Mr Shaw secured the seat representing the Liberal Party in 2010 after defeating Labor incumbent Alistair Hark­ness by a margin of just over 2 per cent.
However, he resigned from the parliamentary Liberal Party earlier this year and announced he would sit as a crossbencher.
Mr Perera queried Mr Shaw's enthusiastic embrace of the proposed boundary changes, pointing out they were far from being approved and questioning how well received he would be by the Frankston North community
"It is a concern that Mr Shaw is showing his pure arrogance in relation to the representation of Frankston North. The residents in Frankston North are a tight-knit, proud community and should not be taken for granted with pure arrogance," he said.
"The Liberals actually recommended in their submission to the VEC that Frankston North be moved into the Frankston electorate when Mr Shaw was a Liberal MP. I really don't know if they [the Liberal Party] were sending him a message at that stage."
Mr Shaw, who has lived in Frankston since age seven, said he had a strong affection for and association with Frank­ston North and looked forward to representing the community.
"Frankston North is a fantastic com­­munity and it is only fitting it falls within my electorate. I welcome this proposal and look forward to the EBC's … boundary change," Mr Shaw said.
The proposed district takes Frankston North from Cranbourne and a triangle of Seaford east of the Frankston Freeway from Carrum.
The proposed boundaries can be downloaded from the EBC website, ebc.vic.gov.au, and are also available for public inspection at municipal council offices.
Any person or organisation can lodge a written suggestion or objection about the proposed boundaries with the EBC. The deadline for suggestions or objections is 29 July.
The EBC will take account of suggestions and objections, and prepare final boundaries by early October 2013. The boundaries will take effect at the 2014 state election.