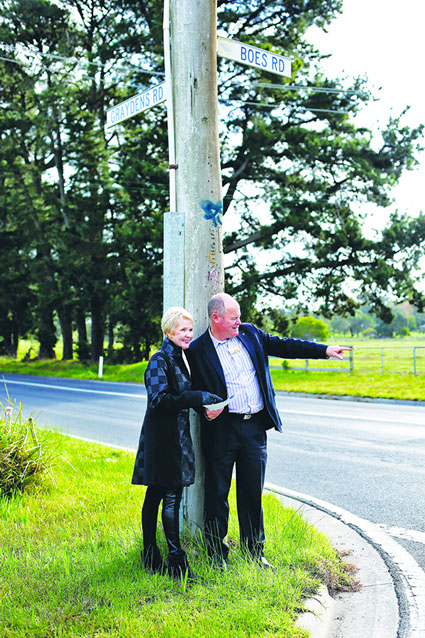 A TEMPORARY roundabout will be installed at the high-risk intersection of Graydens and Boes roads in Hastings.
The decision by Mornington Penin­sula Shire comes after an increasing number of accidents, including three in June (The News, 2/7/13).
Federal Coalition MP Greg Hunt has weighed in to the issue after a near-miss at the intersection on Monday last week.
Mr Hunt, who has an office in Hastings and lives at Mt Martha, has been enlisted by the shire council to lobby federal Transport Minister and newly elected Deputy Prime Minister Anthony Albanese.
Mr Hunt's media adviser, Tina Mc­Guffie, said the shire had "asked Greg to do what he can to get the Boes Rd/Graydens Rd intersection fixed as a matter of urgency".
Mr Hunt has urged Mr Albanese to allow the most recent crash statistics to be used in assessing the intersection for "black spot" funding.
Ms McGuffie said the shire was confident "this will bump the inter­section up the priority list and allow a roundabout to be constructed in this financial year".
Mr Hunt told Mr Albanese he had been contacted by shire CEO Michael Kennedy "regarding the urgent need for 'black spot' funding to install a round­about at the intersection".
"I would like to impress on you the urgency of this request. I myself have had a near-miss at this dangerous inter­section in recent weeks. I understand there have also been three collisions at that intersection in the past month alone," Mr Hunt stated.
"You will see from the attached infor­­mation supplied by Mornington Peninsula Shire that there were seven collisions at that intersection between October 2010 and June 2012.
"Hastings Police have also advised that since June last year a further eight crashes have occurred, with six of these causing serious injury.
"I urge you to allow this intersection to be assessed for black spot funding using the most up-to-date accident sta­tis­tics, rather than figures from 2011.
"We need to fix the problems at this intersection now, before someone is killed."
Mr Hunt has also written to state Trans­­port Minister Terry Mulder.
Tyabb and District Ratepayers Group asked the shire what it intended to do about the intersection when plans to seal Boes Rd were first announced in 2005.
Pressure to fix the crossroad inten­si­fied in June 2011 when near-neigh­bour David Lines alerted the shire to increasing numbers of crashes.
This followed the sealing of Hen­der­sons Rd (which becomes Boes Rd at the intersection), which led to more drivers using the intersection.
Mr Lines wrote to the shire saying "nearly every week, we are having minor accidents at this intersection" and "all we have had from the shire is two small placards placed on Graydens Rd warning of possible crash risk".
Since then, lobbying to fix the prob­lem has increased. Weighing in have been property owners near the intersection, including Don and Hilda Hodgins; the Tyabb ratepayers group; Hastings state MP Neale Burgess and Cerberus Ward councillor David Garnock, who became aware of the problem after his election to the council last October.
The News understands Cr Garnock requested a briefing by shire officers for all councillors on 1 July. He asked for a roundabout to be built as soon as possible but was told there was no money.
It appears money has now been found for the temporary roundabout, which will be a rubberised version. Signs restricting speed to 40km/h will be installed.
Last Friday, Cr Garnock said cy­press trees at the intersection, which "signi­fi­cantly impacted sight lines", would be removed.
"It is expected the temporary rounda­bout will be installed within coming weeks," he said.
A high-standard permanent round­about would follow, he said.
"Planning, approvals and detailed de­sign for construction of the perma­nent roundabout have started."
He said the permanent one, "a com­plex project", could be built within 12-18 months.
"The shire is concerned the inter­sec­­tion displays a high safety risk, and we've listened to feedback from the com­munity and relevant agencies."