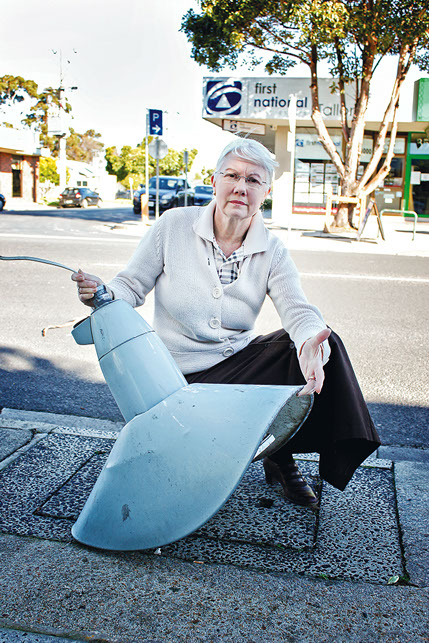 A DISASTER was narrowly averted after a heavy street light plunged more than 10 metres onto High St Hastings in the midst of busy late-morning trade last week.
The light fitting broke off a 10-metre pole in high winds at about 11.30am on Monday, crashing to the roadway outside the ANZ Bank at the corner of King St.
Staff members at a nearby business said it was only good luck that saved someone being seriously injured or killed.
"It just came crashing down all of a sudden. There was a loud smash; it sounded like a car accident," said an employee at a High St business, who asked her name not be used.
"We looked outside and saw the light fitting on the road. It's very lucky it didn't hit anyone. This is a pretty busy crossing here; people use it all the time.
"It had the potential to be a real disaster had it hit a car or a bike or a person. It's very heavy and it has fallen a long way so it would have caused a lot of damage had it hit anything.
"It was only because it was such a windy day that the street wasn't busier. You really have to wonder about the safety of the other lights – they're all the way up the street."
The employee said she had phoned Mornington Peninsula Shire about the incident "but they said they didn't know who was responsible for the light. They just said they'd log a job number.
"But that was on Monday and it's now Friday and we still haven't heard anything back. We assumed the shire would have got back to us by now. It's not good enough."
Western Port Chamber of Commerce and Industry president Lisa Dixon said the incident was particularly concerning as there were dozens of lights on High St and elsewhere in the town.
"We're hoping United Energy will now come and check all the lights," she said.
A United Energy spokesman said: "We conduct regular inspections on all street lights in our network, however, due to the sheer volume we are reliant on the council, who often own the asset, and members of the public to inform us of street light outages.
"Our field crews were only recently informed of the case and a crew attended the site yesterday [Thursday] to ensure it was safe and perform the works. Unfortunately, the metal head of the street light was missing and the team will be returning first thing on Monday morning to conduct a full restoration.
"Members of the public can report street light outages by visiting our website (www.uemg.com.au) or calling the faults line on 132 099."
Chris Brennan