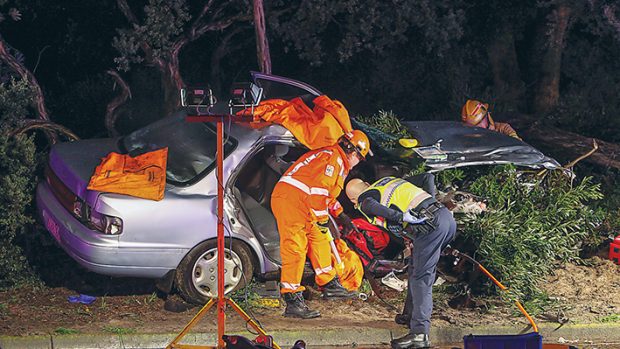 NINE people were seriously injured – including a young man who remains in a critical condition – in a horror day on Frankston roads on Wednesday.
Six vehicles were involved in two separate accidents at Seaford and Langwarrin in wet conditions on Wednesday evening.
Two people taken to The Alfred hospital by helicopter in critical conditions while a further seven victims were transported by ambulance to Frankston Hospital suffering serious injuries.
A third accident on Monday evening involving an out-of-control semi-trailer resulted in a further two people being seriously injured, taking the injury toll on Frankston roads to 11 in just three days.
The most serious incident occurred about 10.30pm on 4 June when a Toyota Camry travelling "at high speed" north along the Nepean Highway slammed into the rear of a utility vehicle near Seaford Rd before veering out of control onto the wrong side of the road into the path of an oncoming Holden sedan.
The driver of the Camry sustained life-threatening injuries and remains in intensive care at The Alfred hospital, while the driver of the utility and four people travelling in the Holden Commodore were all seriously injured.
A fourth vehicle parked on the western side of the highway was also extensively damaged in the crash.
The highway was closed in both directions for more than six hours while police, ambulance, SES and CFA crews attended the injured and cleared the wreckage.
Earlier in the evening, a man aged in his 60s was critically injured and a 49-year-old woman suffered serious injuries in a head-on collision on the Westernport Highway near North Rd in Langwarrin South.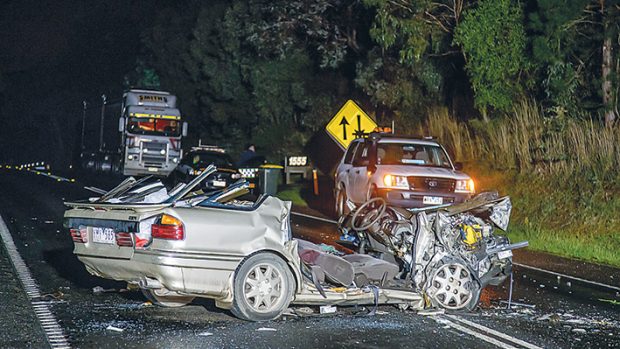 Police said it appeared the male driver travelling in a Mazda sedan had "somehow lost control and ended up on the wrong side of the road", possibly after attempting to overtake a truck in wet conditions, and collided with the woman's oncoming Ford Falcon sedan about 5.30pm.
CFA and SES rescue teams had to cut the roof of the Mazda sedan away in order to get the injured man out of the wreckage. He was flown by ambulance helicopter to The Alfred hospital where he remains in serious but stable condition.
The female victim in the second vehicle also suffered serious injuries, but was transported by ambulance to Frankston Hospital.
Senior Constable Steve Caple of Carrum Downs highway patrol said it was a shocking day for the Frankston community.
"There are nine people who didn't make it home last night, nine people whose lives will be forever affected by the injuries and trauma they've sustained," he said.
"Not to mention all those family members, friends and members of the community, as well as emergency services personnel who have to attend these terrible scenes, who will all be affected by these tragedies.
"The wet conditions would have played a part, but drivers need to adjust to the conditions, and above all, be a bit more patient. These accidents are all avoidable if drivers simply take greater care and show more patience. It's a terrible price to pay.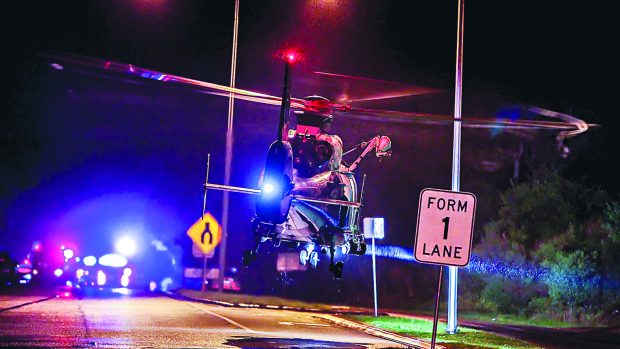 Senior Constable Caple commended the work of the numerous SES and CFA volunteers who attended the accidents.
"They provided invaluable support in helping deal with these terrible accident scenes, and we can't thank them enough," he said. "I'm in awe of their commitment, especially when you consider most of them are volunteers who give up their own time and don't even get paid for their efforts."
On Monday 2 June, two people were injured when the car they were travelling in on Baxter Tooradin Rd in Langwarrin South collided with a semi-trailer about 4.45pm.
Police said the driver of the semi-trailer had been forced to brake suddenly for a car stopped on the highway to make a right-hand turn. However, the semi-trailer skidded out of control in the wet conditions and jack-knifed into the path of an oncoming sedan.
A female passenger in the car was seriously injured and flown to The Alfred hospital for treatment, while the male driver was taken by ambulance to Frankston Hospital. Both are now listed as being in a stable condition.
The road was closed about five hours while CFA, EPA and VicRoads officers worked to clean up 400 litres of spilled diesel.