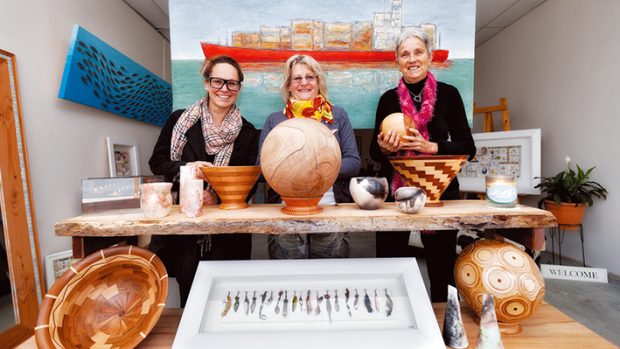 EMPTY shop fronts can drag a town's look and feel down, negatively impacting on other businesses and giving a high street an "abandoned" look.
Such is the situation facing Hastings.
The Western Port Chamber of Commerce and Industry and the Mornington Peninsula Shire aim to change the situation by joining forces for a 'Hello Hastings' renewal project in a bid to rejuvenate the business hub located around High St.
The federal government has pitched in $38,000 through the Department of Employment to get the project up and running. If it is successful there is future scope to develop the initiative further.
Vacant shops are being filled with artists, creative projects and community initiatives in a bid to make the town more attractive to residents and visitors.
Colourful signs have been posted up around Hastings letting people know about the project, which has the slogan: 'Empty Space, New Place!'.
Chamber project manager Pam Ford said the focus was on using "empty space" to allow businesses to sign short term leases for vacant shops that have been sitting empty for quite some time.
"We've been speaking independently with the shop landlords and they can see the value in filling the shops with businesses for the good of the town," she said.
There are now six "micro businesses" at six locations along High St and its surrounds, mostly with an arts-based focus.
Chamber marketing and promotions officer Angie Baker said the response from shoppers had been "fantastic".
Ms Baker has set up The Local Creative "pop-up shop" at 10 High St, featuring locally-made art and furniture for sale.
The Hastings Renew idea is based on the Renew Newcastle not-for-profit initiative founded by urban renewal expert Marcus Westbury in 2008. Mr Westbury visited Hastings in July 2012 to discuss the concept with western port businesspeople.
Other towns and cities around Australia have followed Mr Westbury's lead to offer short-term use of empty shops and offices to artists and others to turn derelict buildings into vibrant shopping areas.
It had taken just 12 weeks to put the Hello Hastings campaign in place, according to Ms Ford.
"It's a first for the peninsula and it's great to have the support of the shop landlords."
A previous attempt by the chamber to bring the concept to Hastings floundered due to a lack of support from some real estate agents who did not support the idea ('Chamber pursues 'renew'', The News, 26/11/13).
Micro-businesses lease the shops on a short-term month-by-month basis "to generate activity and drive business interest in otherwise empty spaces".
Properties are still marketed and advertised as being available for longer-term lease while they are occupied by the micro businesses.
Visit www.hellohastings.com.au for further details.