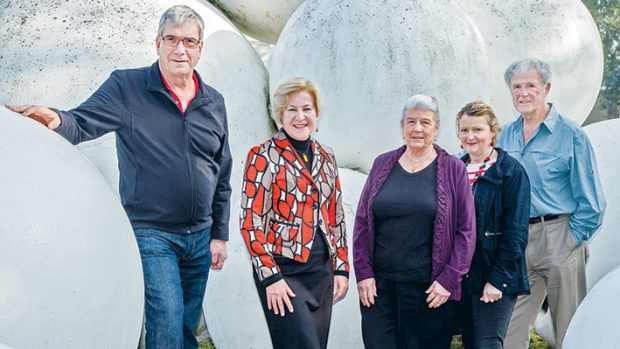 FORMER mayor Christine Richards and the Frankston Community Coalition 'gang of six' are pushing an idea to improve Frankston train station's surrounds.
The group has been talking to Frankston Council about relocating several sculptures from the McClelland Gallery in Langwarrin to the station precinct in an effort to make the area more welcoming for visitors and residents alike.
Ms Richards said McClelland Gallery was on board with the plan but it had to be agreed by council before it could become reality.
"It's a terrific way to leverage Frankston's cultural assets and it would connect the station and central Frankston to some of the best art we have," Ms Richards said.
The Frankston Community Coalition – a citizen lobby group formed to pressure politicians to give Frankston "a better deal" in the run-up to this year's state election – has been critical of the state Coalition government's latest $13.8 million Frankston Station Precinct Improvement Project draft plan released in April.
Ms Richards welcomed the $13.8m investment in Frankston but believed more needed to be done to revamp the station into a major transport hub with adequate car parking facilities for commuters.
Cr Glenn Aitken said he backed the community group's proposal to install sculptures at Frankston station.
"Changing a place visually changes the way people react to it," Cr Aitken said.
"Even at this early stage I can see how the idea has merit and I'm strongly supportive of their proposal. It's on the right track."
He said council would have to work through funding for the movement of the sculptures, if councillors agreed to sanction the move.
Ms Richards said the group had discussed installing seven artworks – "four major and three minor" – at Frankston station.
She said it cost "about $50,000" to move and then maintain a major sculpture.
This could be funded using part of the $13.8m state government money, according to Ms Richards.
"It would cost about one-fifteenth of that money in total," she said.
If council and the state government agreed to allow about $920,000 of the Frankston Station Improvement Project funds to be used to relocate sculptures, Ms Richards said they could be on display by the end of this year.
– The Frankston Community Coalition will host a public forum meeting on Thursday 12 June at 7.30pm at Mechanics Hall, 1 Plowman Pl, Frankston to discuss the protection of Frankston's natural assets. It will be an opportunity for Frankston residents to question state election Labor candidate Helen Constas and Liberal candidate Sean Armistead about their views on issues, including the green wedge, Kananook Creek and waste management.