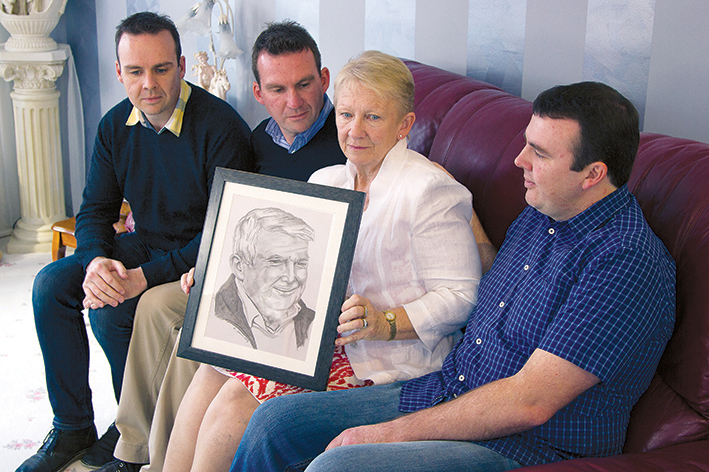 IT is nearly a year since 64-year-old Dermot O'Toole was killed in his jewellery store on High St, Hastings.
As sentencing approaches for the man who has pleaded guilty to Mr O'Toole's murder, his widow Bridget O'Toole has broken her silence about the events of that horrific day on 12 July, the profound effect it has had on her family, and her views on the justice system that allowed it to happen.
At midday last Sunday, the lounge room of her home was filled with reporters and television cameramen, as Bridget sat – supported by her three adult sons – to make her first public statement about her traumatic experience and the heroism of her husband who tried to protect her from harm.
It is the story of a man so dedicated to the wife he loved that he laid down his life for her. But it is also the story of a woman left behind, devastated and heartbroken.
"I cannot sleep at night with the terror. I just relive the terror over and over," Mrs O'Toole said.
Mrs O'Toole recounted the Friday evening her husband was murdered.
"He [the armed robber] made no demands. He just started stabbing me. Of course, I screamed and Dermot, hearing me, ran in."
"On seeing Dermot, the man threw me across the shop into a glass cabinet, shattering it.
"Almost immediately, he knocked Dermot to the ground."
At that stage, both Bridget and Dermot were on the ground. The only person standing was the robber, armed with a knife.
"It was at this point that he stood over my husband, lying helpless on the floor, and stabbed him to death".
After he stabbed Dermot, the robber grabbed a pad of "inexpensive" rings and made for the door.
"He stopped at the door and looked back at me," Mrs O'Toole said.
"He then came back to me, grabbed the necklace I had on, and tore it off."
"Dermot said to me 'call an ambulance, I've been stabbed'. These were his final words to me."
Mrs O'Toole has recovered from her physical injuries, but believes she will never recover from the mental scars.
"It is impossible to ever recover. It haunts me every day."
She lives like a prisoner in her own home. Frightened to leave. Scared that she will be attacked again.
"My boys have suffered terribly. I am terrified of being attacked again. If I ever go out, I come back in and search every inch of the house to make sure there is nobody lying in wait."
Mrs O'Toole has been told by an assigned psychologist she is suffering from severe post-traumatic stress disorder.
"I look at photos of my husband to try and remember what he looked like before that day, because the only image I can ever see in my head, the one I can never get out, is my husband lying dead on the floor of our shop."
Mrs O'Toole attacked the parole system that had allowed their attacker back out into society.
"He was out on parole. I just can't help to think that Dermot would still be alive today if that man wasn't out on parole, and that devastates me."
One factor that particularly haunts her is how premeditated the crime was. She remembers the armed robber visited the shop earlier the same day as a customer and his chilling actions that were only discovered later by police when they watched footage from the shop's closed circuit television cameras.
"He came in with his girlfriend and her little baby. He brought some jewellery in to get valued. He wanted to know if the diamonds in the jewellery were real or not.
"While he was in the shop he had his hands on the counter as he looked at items. At one stage, he said 'look, I've left fingermarks all over your cabinets', and put his hand up his jumper and wiped them off.
"I never thought a thing of it, and even said to him 'don't worry, I clean that glass 20 times a day'.
"The thing that I missed, the thing that tells volumes about what this man intended to do was that when he left the shop, he opened the door, let his girlfriend go through, and then put his hand once again up his jumper and wiped his fingerprints off the door. If only I had seen that, maybe I would have known…"
"He was very calculating."
The identity of the 27-year-old man who has pleaded guilty to murdering Dermot O'Toole has been supressed, due to charges over other offences still before the court.
The O'Tooles talked at length about the way their family has been changed by the murder.
"It used to be a house full of noise and laughter. He was a very boisterous and happy man," Mrs O'Toole said.
"We used to laugh and joke so much. We worked together for so many years and it was such a joy."
"He was a kind and humble man. He would stand in that shop and talk for hours to people. They were just people who were lonely, or who had problems and needed someone to talk to. That person was Dermot."
"He'd listen to people's problems for hours on end, even though he had problems of his own. He'd had a stroke, and was suffering from Parkinson's disease."
Now it is a house filled with silence and sadness.
"Mum has coped as well as could be expected," son Christian said.
"But when mum is home, the house is very quiet."
There have been some bright moments. One was the birth of a grandson just four weeks after Dermot's murder.
"It was a joyous but difficult occasion. He has my dad's laugh!" son Dale said.
More recently, the O'Tooles have been attending the numerous court appearances of the offender, seeking justice for Dermot.
As for the man who has now pleaded guilty to the crime, Mrs O'Toole is clear about her feelings towards him.
"This is a man who I consider evil. He gave me no chance. He came into the shop like a deranged animal, screaming."
Asked what it feels like to see the man who killed her husband in court she said: "He just stares us down. He came into court and locked his gaze on me and kept staring."
"I think that, in his mind, he blames us for him now being in prison. There certainly is no remorse there. Just anger that he has been caught."
With the sentencing hearing coming up, Mrs O'Toole is keen to see justice done.
"What I see as justice, I cannot say. What I will say is that I have to have faith that the judge will give an appropriate sentence."
Mrs O'Toole was keen to pass on her thanks to the Hastings community for their support, and also to the landlord of the Jewel Shed's building.
"I cannot speak highly enough of that man. We were only new tenants in that building and we had never even met our new landlord. From the moment of Dermot's murder, that man has never accepted a cent from me."
As for the town, she speaks of pride about how the community surrounded her and her family, and how they honoured her husband.
"The people were wonderful. I really love this town. I wish to thank the people of this community for their amazing support. I am so proud to be a part of this community."
Hastings is planning a number of commemorations on the first anniversary of Mr O'Toole's death.
A laneway will be named in his honour and plans are underway to have a green themed day, in honour of Ireland-born Mr O'Toole, on the date of the anniversary of his death so that traders and residents can remember the kind man who was taken from them so suddenly and violently.