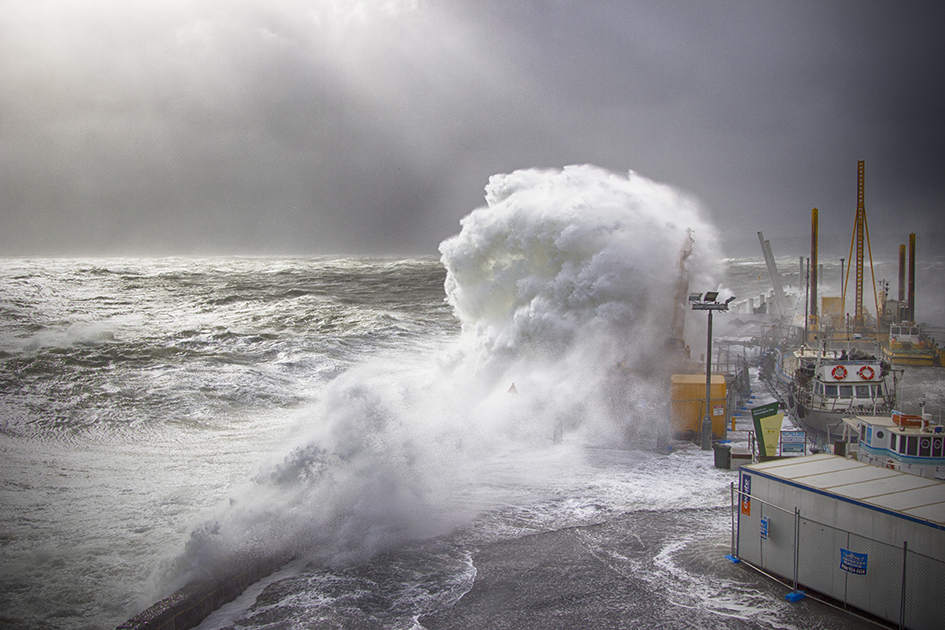 THE Mornington Peninsula bore the brunt of last week's fierce wind storm which damaged homes, cut power supplies and created havoc for commuters as train services were suspended and major roads closed to traffic.
Dozens of trees and power lines were brought down by wind gusts of up to 122km/h as an icy storm front labelled by the Bureau of Meteorology as a "winter weather bomb" blasted the state's south-east on Tuesday.
Emergency services were stretched to the limit clearing roads, rail lines and homes from fallen trees, branches and other debris, while police were kept busy responding to chaos on the roads.
Large sections of towns including Mornington and Mt Martha were left without power for several hours during the peak of the storms as well as more than 10,000 properties across the peninsula.
State Emergency Services officials said the Mornington Peninsula was the state's worst affected region, with 47 calls for help coming from Mount Martha, 46 from Mount Eliza, 39 from Rye, 32 from Mornington,and 27 from Rosebud.
To coordinate response efforts, a divisional command centre was set up at Frankston.
Frankston SES controller Phil Holt said additional crews from around the state had been directed to the area to help clear up the backlog of jobs.
"We had about 300 calls for assistance in the Frankston area and there was a similar number across the peninsula," Mr Holt said.
"The damage was fairly evenly dispersed across the region, mainly fallen trees and power lines."
He said the high volume of work meant SES crews had to prioritise tasks, with the number one priority clearing trees blocking roads.
Coastal regions were especially hard hit, with huge swells combining with a high tide and driving wind and rain to the foreshore region.
The Nepean Highway was awash at the bottom of Oliver's Hill as waves crashed over the retaining wall and flooded the car park area and roadway, while Frankston pier was also extensively damaged.
"I've lived in Frankston all my life and I've never seen the water that high before," Mr Holt said.
United Energy spokesman Damien Batey said the peninsula region had "felt the brunt of the extreme weather", with about 10,500 properties left without power, while a further 800 homes in Frankston also affected.
Sustained power interruptions were experienced in Frankston South, Hastings, Balnarring, Bittern and Sorrento, he said. "A substantial number of the interruptions across the region were single premise, customer outages," Mr Batey said. "The worst damage done by the storm occurred between 10 and 11.30am on Tuesday when extreme winds lashed the region.
"We also had some customers experience outages of longer than 20 hours on the peninsula. We apologise for the inconvenience and as an act of good we are accelerating the compensation payments they would typically only receive on an annual basis.
"Our crews worked tirelessly and in difficult conditions to restore power and we are very grateful for their efforts."
Sorrento SES spokesman David Lammers said crews had worked throughout the night and well into Wednesday to help clean up damage.
"It's been chaotic ever since the storm hit, especially in areas like Rye and Balnarring.
"We got our first call about 10am on Tuesday and there was steady build up of jobs across the day.
"Most of the damage was fallen trees and building damage, such as sections off roofs being blown off or tree and branches falling onto homes."
Mornington Peninsula mayor Cr Antonnia Celi said shire teams had worked closely with the SES in a collaborative effort clear up fallen trees, debris and building damage.
"Since the storm on Tuesday, the shire has received more than 560 requests from the community, with the majority being related to vegetation damage/clean-up due to strong winds," Cr Celi said.
"The Shire's environmental health team also worked with food businesses that had lost power.
"The Shire is responding to requests and will be involved in ongoing response and recovery from this storm event.
"On behalf of the community, I thank the emergency services and shire team members who have been involved in the clean-up, and ask the community to keep up-to-date, listen to key weather warnings and stay safe during severe weather conditions."
The SES has advised peninsula residents to secure loose items around properties, be mindful of hazards on roads, especially those that a poorly lit, and to not park or shelter under trees during a storm.
To request assistance from the SES, call 132 500. To report storm damage to shire property, call 1300 850 600. For life-threatening emergencies call 000.