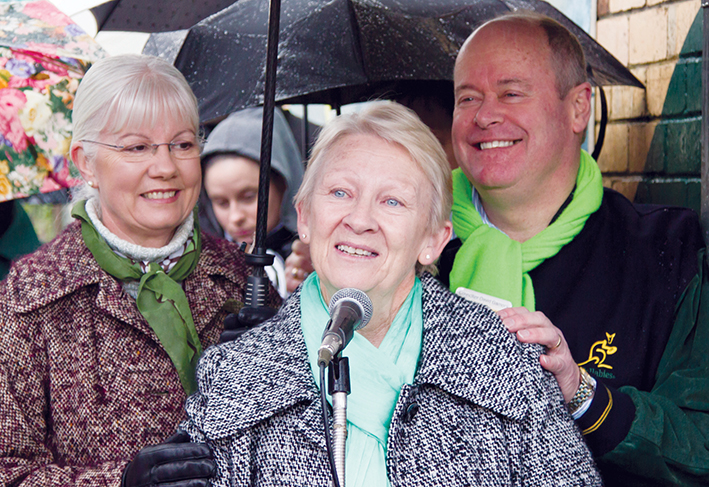 On Saturday 12 July, a large crowd braved the winter wet to attend a dedication ceremony in honour of Dermot O'Toole.
It was a year to the day since his murder, but Bridget, Trent, Christian and Dale O'Toole stepped out in front of a big crowd to remember their husband and father.
A laneway and memorial bench were named in his honour.
The rain didn't abate, and reference was made to the weather being more reflective of Dermot's country of birth.
Crowded in tight the crowd, many dressed in green, listened to speeches about Dermot's murder and the profound effect it has had on his family and the wider community.
Bridget spoke wonderfully of Dermot, battling through a few tough moments before ending with a story about her husband that got the crowd laughing.
How he'd snuck out to the supermarket on the day of his murder for "a little bit of chocolate" before returning with a family block that he quickly consumed.
Christian, Dale and Trent all spoke of their love for their dad, and how much they missed him.
Dale, whose son was born just weeks after Dermot's murder, spoke of how he would return to the laneway with his son and tell him of his grandfather.
Trent spoke next and, with a twinkle in his eye reminiscent of his father, got the crowd laughing again.
"How fitting that a man that gave so much cheek to the people of Hastings be honoured with a memorial seat. Now the people of Hastings can give him some of their own cheek back."
At the end of the ceremony green balloons were released.
It was a strange emotion that pervaded at the end of the ceremony. As Bridget and the boys talked and hugged through the crowd they gave everybody a gift. They gave a release from the pervading sorrow that hangs in the air whenever you think of Dermot O'Toole and his tragic loss.
The parish priest, Father John, best summed up the day.
"We will always love and remember him, but we must also move on. It is what Dermot would have wanted."