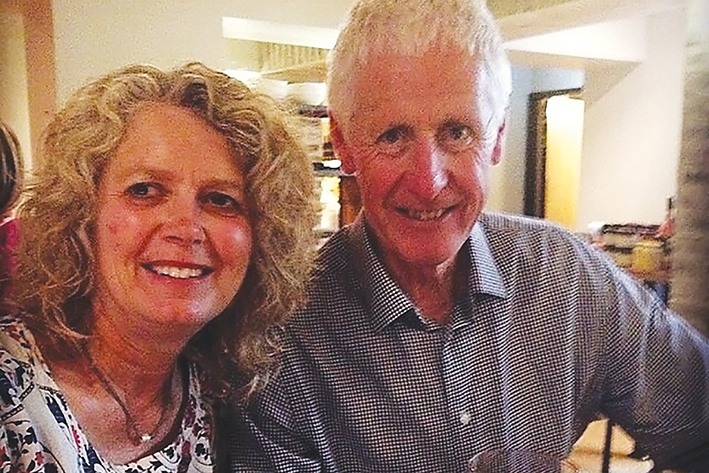 THE peninsula has been rocked by the loss of two of its own with the tragic deaths of Mt Eliza couple Liam and Francesca "Frankie" Davison after the Malaysia Airlines flight they were passengers on was shot down over Ukraine last Friday morning.
Early evidence points to flight MH17 being hit by a surface-to-air missile as it flew over a war zone on its way to Kuala Lumpur. The commercial airliner was downed while flying over Russian separatists-held territory in eastern Ukraine.
Mr and Mrs Davison were on their way to Melbourne via KL and boarded the flight in Amsterdam. All 298 onboard the plane lost their lives. Thirty-seven Australian and permanent residents were among the deceased.
The couple had two children – Milly and Sam – aged in their 20s.
Mr Davison, 56, was an award-winning author of five novels. Two of his books, 1993's Soundings and The White Woman in 1994 were shortlisted for the Victorian Premier's Award and The Age Book of the Year Award.
Soundings won the National Book Council's Banjo Award in 1993.
He taught creative writing courses at Frankston's Chisholm TAFE Institute until 2007 and was well regarded by students.
Australian author and poet Theresa O'Dea was one of his students. She said Mr Davison was "a great teacher" and "one of my mentors".
Mrs Davison, 54, taught English, history and humanities subjects at Toorak College in Mt Eliza for 28 years and was the year 8 coordinator.
The school released a statement on Friday: "Toorak College community is saddened by the loss of much loved teacher Frankie Davison and her husband Liam who were on the Malaysian Airlines flight that was brought down over Ukraine, this morning. Our hearts and sympathy goes out to their children Milly and Sam, and family. We are devastated by the news of this tragedy. Our heartfelt sympathy and prayers are with Frankie's family and friends."
School principal Helen Carmody has described Mrs Davison as a much-loved teacher, colleague and friend.
"She was a very, very popular teacher and well-loved by all the students, parents and staff."
Premier Denis Napthine said 18 Victorian residents were onboard MH17.
Dr Napthine expressed "deepest condolences to the friends, family and loved ones of all 298 victims who were aboard the Malaysia Airlines MH17 flight."
"The shooting down of a passenger aircraft full of innocent civilians is an unspeakable act that will forever leave a dark stain on our history," he said.
Flags at state government and affiliated agencies' building will be flown at half-mast until Friday (25 July) as a mark of mourning and respect.
Dunkley MP Bruce Billson said the thoughts and prayers of all Australians are with the families and loved ones of the Australians that tragically lost their lives.
"Our hearts go out to the friends and family of Liam and Frankie Davison who were tragically killed," Mr Billson said.
"We can't restore them to life but we will do everything we can to support their family because that is the Australian way – we help in times of trouble.
"Counselling, consular and all possible assistance will be provided to the families during the difficult days ahead."
Toorak College opened the doors of the school and its chapel over the weekend to provide counselling services to staff, students and parents.
Prime Minister Tony Abbott said a national commemorative service would be held in a few weeks' time.
"I think it is important at a time like this to indicate we are grieving with, and praying for, all of those who have been impacted by this dreadful, dreadful event," Mr Abbott said.
"(The national commemorative service) will take place in a few weeks when the loved ones have had time to come to terms with their grief. Then we will come together as a nation in sorrow and solidarity."
Mr Abbott has blamed Russian-backed rebels for shooting down the plane over Ukraine.
Separatists are believed to have thought flight MH17 was a Ukrainian transport plane.
The Prime Minister wants a transparent and international investigation into the fatal missile attack.
The downing of Malaysia Airlines flight MH17 comes just months after the airline's flight MH370 from Kuala Lumpur to Beijing disappeared without a trace with 239 passengers onboard.
Six Australians were onboard MH370.
* The Davison family would prefer donations to be made to Annapurna Orphans House, Pokhara, Nepal, Sarade Basnet in lieu of flowers. The Davisons have been involved and worked with the orphans in Nepal.