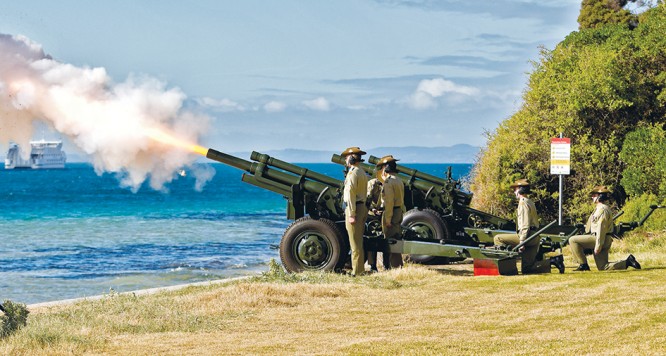 FOR the best part of a century, few but the most studious of history buffs were aware of the momentous role an artillery crew stationed at the southern tip of the Mornington Peninsula played in the chronology of events rapidly unfolding following Great Britain's declaration of war against Germany in 1914.
History records the shot they fired across the bow of a fleeing German merchant ship, SS Pfalz, as the first shot of the British Empire in World War I. But it took the arrival of the one hundred year anniversary of the outbreak of that war, and the approach of next year's Anzac Day centenary commemoration for the events at Fort Nepean on 5 August 1914 to gain the public recognition they deserved.
Hundreds of guests assembled at Point Nepean last Tuesday as an ear-shattering blast from a howitzer cannon at Fort Nepean echoed across the waters of Port Phillip at exactly 12.45pm to mark the firing of that fateful shot.
Among the crowd were dozens of dignitaries, including Victorian Governor Alex Chernov, state and federal politicians and armed forces representatives, as well as the families of the servicemen who had manned the guns in 1914, including the granddaughter of Bombardier John Purdue, the man who fired the shot.
The event not only marked the start of the optimistically dubbed "war to end all wars" but also long overdue public recognition of the Fort Nepean's place in world history.
Picture: Yanni