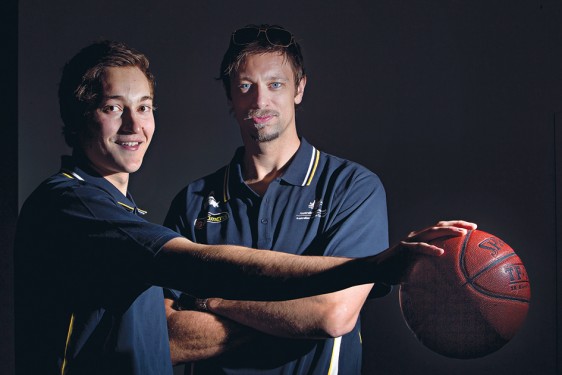 FRANKSTON basketballers David Andersen and Ryan Broekhoff have been selected to play in the 12-man Australian team at the FIBA World Cup in Spain.
The players were farewelled last Monday before heading off on the Boomers' pre-tournament tour of Europe.
The team was announced on 28 July and will compete from 30 August to 14 September. Their selection followed a week of internal trialling at the Australian Institute of Sport in Canberra where both Andersen, 34, and Broekhoff, 23, trained as teenagers.
The talented pair began as five-year-olds with Frankston Basketball in introductory programs then played in the domestic competition. They were members of Frankston Basketball's junior representative program: the Frankston Blues. From there, they took similar paths through state representative teams and then into the Australian Institute of Sport and national junior representative teams.
Boomers head coach Andrej Lemanis said the challenge of reducing 17 into 12 was made all the more difficult because of the performance of all the players in camp. "The selection process has been vigorous and thorough," he said.
"The really positive news for Australian basketball is that we have a depth of talent available now which made the final selection process challenging.
"I have always said that difficult decisions would need to be made and it was very tough settling on the final squad, which is tremendous credit to all who competed at the camp."
With his team selected, Lemanis's focus now turns to the Boomers' European preparation. "I look forward to building together over the next month," he said.
Frankston Basketball president Rob Little says Andersen's and Broekhoff's selection was an historic moment for the Frankston and District Basketball Association which he said was the premier sporting association on the Mornington Peninsula with more than 13,000 participants.
"To have two athletes selected out of the 12-member team who came through the same basketball association is phenomenal," he said.
Frankston mayor Cr Darrel Taylor was at the players' send-off said council was working with the association to expand its stadium to cater for more than 6000 members.