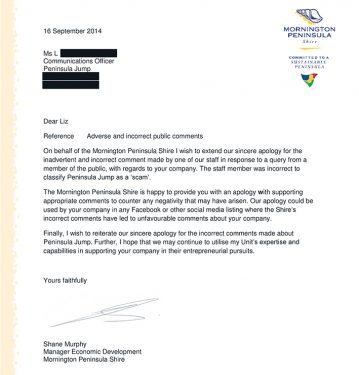 MORNINGTON Peninsula Shire has apologised for labelling a business planning to build a sports and trampoline centre on the southern peninsula "a scam".
The company, Peninsula Jump, announced via Facebook in July last year that it planned to open a fitness and sports centre on the peninsula which would also include a large trampolines zone.
A lack of visible progress by the business has led critics on Facebook to criticise Peninsula Jump for a perceived lack of transparency.
Peninsula Jump also launched "a non-profit arm" last November called Miracle Fund to raise funds for charitable causes.
Council's economic development manager Shane Murphy sent a letter of apology dated 16 September to Peninsula Jump after a council "staff member was incorrect to classify Peninsula Jump as a 'scam'".
Several people who have won or bought tickets for the centre at fundraisers are frustrated there has been no confirmation of the centre's opening date or its location.
An email response by a council business development officer to a query from a member of the public asking whether Peninsula Jump had lodged planning or building permits for the planned fitness centre stated: "Mornington Peninsula Shire has nothing to do with this entity and agree it is most likely a scam."
The council officer suggested the member of public contact Facebook to ask the best way of "protecting their clients from this scam."
Mr Murphy's letter to Peninsula Jump apologised for "the inadvertent and incorrect comment made by one of our staff in response to a query from a member of the public, with regards to your company".
Mr Murphy told The News the email response had been "a simple error… by one of our junior staff".
He said the staff member had been "counselled" after not doing "due diligence" before making a statement about Peninsula Jump's business model.
Peninsula Jump's Miracle Fund has also caused angst among the company's Facebook's followers with several questioning its charitable credentials since the fitness centre is yet to be built.
Peninsula Jump states in a FAQ document on Facebook that the Miracle Fund "is at the heart of the Peninsula Jump concept. 20 per cent of yearly profits will be given back to the community through a series of what we like to call 'miracles'. Examples might be: A parent is suddenly unemployed or unfit to work temporarily, and the family risks losing their home. We will cover mortgage payments until employment is resumed or the health issue is resolved…"
Other examples include providing computers to the children of families who cannot afford it and paying for medical treatment for an ill child.
A spokesperson for Peninsula Jump said the company accepted the council officer's email had been "an unfortunate mistake".
"I do believe it was a genuine mistake," the spokesperson said.
"We have been consulting people above them [at council] and they [the council officer] may not have heard of us."
The spokesperson said: "The Shire has been helpful up to this point and we still continue to work with them."
Mornington Peninsula mayor, Cr Antonella Celi, took to Peninsula Jump's Facebook page last Thursday and Friday to defend the company's reputation.
Cr Celi's first post stated: "PJ is not a scam" and she posted on Friday that one of the persistent Facebook critics of Peninsula Jump could make an appointment to visit her office "to clarify any misunderstandings you have". She said "allegations" against Peninsula Jump are "unfounded".
Cr Celi told The News she was aware of Peninsula Jump's fund raising efforts and wanted to counter "wrong information" doing the rounds on social media.
"It is my duty as a civic leader not to allow innuendo and gossip to spread," Cr Celi said.
She said there had been "no formal application" from Peninsula Jump to build the fitness centre on the peninsula and the company was being treated "no differently" from any other constituent in her Seawinds ward.
Cr Celi said she "does not have a personal relationship" with Peninsula Jump but has met the business backers at a fund raising event.
"Their venture is no different from any others," Cr Celi said.
"We are an open and transparent council."
Mr Murphy's letter to Peninsula Jump stated: "I hope that we may continue to utilise my Unit's expertise and capabilities in supporting your company in their entrepreneurial pursuits."