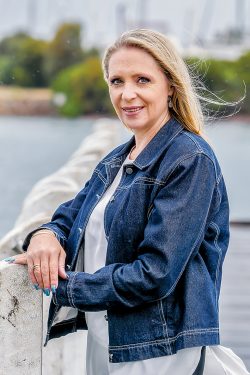 FEW people have had to endure the scale of tragedy and heartache suffered by Melbourne mother Susan Berg.
Fewer still have come out the other side radiating the warmth and passion for life the 44-year-old author now exudes.
Orphaned as a teenager following a boating accident in Western Port in which she was the sole survivor, Berg's life rapidly unravelled.
It took almost a quarter of a century of pain and self-loathing for the former Toorak College staff member and Mornington Peninsula resident to find the courage and fortitude to declare peace on herself.
The journey she outlines in her recently-released autobiography The Girl Who Lived doesn't so much follow the well-worn path of darkness to light as a heartbreaking decent from light to dense blackness and then back again.
In 1985 the then 15-year-old Berg's sheltered life of privilege was torn apart in an instant when her mother, father and brother drowned.
But tragedy was to become even more familiar in the years that followed.
"In the next 12 months alone, I lost my grandmother, uncle and cousin, along with two kittens and a goldfish," Berg writes. "Everything I loved died.
"Before my 16th birthday, I'd been raped by a trusted family friend, introduced to drugs and preyed upon by a man who lured me into a seedy sexual world … I was a teenager on the path of self-destruction."
The chaos continued through her teenage years and included a string of destructive and abusive relationships, culminating with her falling pregnant at 19.
In stark contrast, Berg's life 29 years ago could scarcely have been more idyllic as she set out with her mother, father and brother on a crisp October afternoon for a fishing trip on Western Port.
The tight-knit family set out from their four hectare property at Silvan in the Yarra Ranges where Berg, a doted upon youngest child, had her own horse and enjoyed the company of two older sisters, a brother and swag of pets.
Her father was a doctor and her mother a career nurse. The one gripe of her otherwise happy life was the weekly church attendances she was required to partake in with her devoutly Christian family.
Unlike her two sisters, Berg enjoyed the regular fishing outings in the family's small boat and had been particularly looking forward to the fateful Sunday outing.
"It was a crisp October afternoon, a perfect day for fishing," Berg recalls. "But our joyous day ended abruptly when, as the sun went down, our boat took on water and sank."
With life jackets helping keep them afloat, the stricken family decided to remain with the now capsized boat and await emergency assistance.
But as the darkness deepened, it became clear help was unlikely arrive any time soon, so they agreed to try to swim to shore.
They prayed together then set out side by side into the unknown.
However, they soon became separated. Her father was the first to struggle, so her brother went to his assistance while she and her mother swam on in search of help.
Not long afterwards, her mother fell behind. Berg had considered turning around but reasoned their best chance of survival was one of them making it to shore to raise the alarm.
But it would be hours before Berg reached the safety of dry land on French Island.
"Separated from my parents and brother, I swam in the darkness for hours, overcoming the threat of hypothermia, shark attacks and quick-sand mud.
"After crawling through pitch-black swamplands, I had arrived at an old prison island; a place virtually void of human life."
She spotted the light of a farmhouse but by the time she was able to raise the alarm, it was 11pm, more than three hours after the boat had capsized.
The bodies of her father, Dr Edwin Berg, 57, mother Valarie Berg, 42, and 16-year-old brother William were found the following morning.
Soon after the tragedy, she and her sisters publicly vowed to "do their parents proud" by devoting themselves to leading the productive, morally upstanding lives the believed their parents would have wished for.
But within a year, Berg had dropped out of school and wandered far from her promised path.
"It had a lot to do with survivor's guilt," Berg said last week. "I couldn't help feeling that I had done something wrong, that I should have been the one who died.
"I entered a very dark place and struggled to find any meaning in life.
"It was really thanks to the birth of my son that I was able to shift my focus somewhat and get away from the destructive behaviour."
Despite remaining for the most part a single mother, Berg was able to forge a successful career as an executive assistant to some of the country's top CEOs.
By 2007, she had brought her own house in Frankston and was enjoying material success.
But she continued to struggle to find any real meaning in her life.
Then four years ago, something shifted within her. She decided to drop her guilt and pursue happiness.
"I guess I finally gave myself permission to enjoy life."
After deciding to pursue her dream of becoming a writer, she left her job, sold her home and set off on an "spectacular journey" riding her motorbike on a solo round trip from Melbourne to Byron Bay.
She then went to Bali, where she lived in Ubud for six months while writing The Girl Who Lived, then continued her quest in Thailand.
The writing experience proved cathartic.
"I was difficult reliving all those memories, but it really helped with the healing process.
"It's turned out to be the best thing I have ever done, such a fantastic experience.
"Now I finally feel I'm being true to myself. I love life and embrace every moment."
She now hopes her story will help inspire others to let go of their pain and find inner peace and happiness.
After returning from South East Asia in 2012, Berg took up a job as the executive assistant to the head of Toorak College's junior school.
While she said she enjoyed her time with the school, she recently decided to leave and dedicate herself to life as writer.
"To find true happiness you have to pursue your dreams, whatever the risks," she said.
"I want to live my life to the fullest and, hopefully, that will inspire others to do the same."
Susan Berg can be contacted via her website www.susanberg.com.au or Facebook page, Susan Berg The Girl Who Lived.