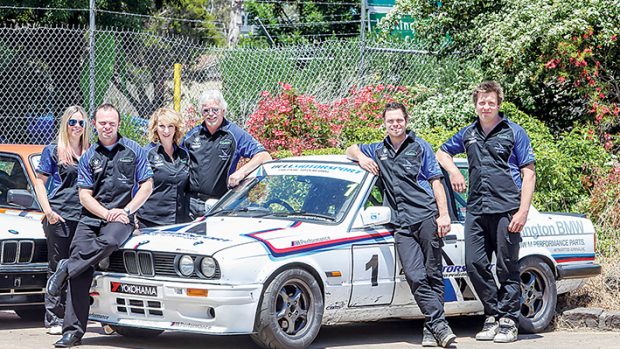 MOTOR racing for Graeme Bell is a family affair. His three children – Sean, 26, Chris, 24 and Jess, 22 – are all keen racers who compete with him at club events throughout Victoria and New South Wales.
Mr Bell enjoyed motor racing in the mid-1990s in a BMW 323 but, like many parents, had to put his own activities on hold while his children were little.
Now they have grown up, the family races as a team at state level championships under the name of Graeme's company, Bell Motorsport, in Marine Pde, Hastings.
Racing BMWs this year Sean, of Somerville, won the BMW E30 Racing Championship for 2014. The one-make event is run at state championship race meetings all over Victoria and into NSW. His father previously won this race in the 1990s.
Jess, also of Somerville, won this year's BMW Club Driver's Championship in only her second year of racing. Her solid aggregate points score over six races at Phillip Island, Sandown, Winton, Calder – and a hill climb near Moe – earned her the prize. She has been signed to drive for a new V8 Supercar team next year.
Chris, of Bittern, was part of a four-driver team – managed by Graeme – which won the 2014 Winton Six-Hour Relay Race last month. It's the second time they have won this event.
Graeme and Sean – driving together in the recent Winton 300 two-driver 300km endurance race – won their class after qualifying 30th out of 76 cars. Their win was all the more notable as they beat some tough competition from V8 Commodores and Falcons.
"It was pretty amazing that we managed to come ninth outright," Mr Bell said.
Then, to cap off the year in a worthwhile way, this family of racers joined 40 other drivers at Sandown on 22 November for a charity ride day for the BMW Car Club of Victoria, giving rides to children under the care of the Make a Wish Foundation and The Salvos.
The 190 disadvantaged, disabled or ill children were taken for a ride in Porsches, BMWs, hot Toranas and Falcons, and historic cars of all makes and models.
"We spent the whole day taking kids for rides and it was one of the highlights of the year," Mr Bell said.
He said his children "didn't have much choice" taking up motor racing.
"I was very involved and they just sort of joined in," he said. "When they were in their teens they started to come to track days with me and learn to drive. They all had their racing licences before they had their normal car licences.
"They began helping me run track days and, before long, our family time was at track days."
Even his partner, Jo, got "dragged in", he said. She recently bought an old Mini – a make which has a solid racing history. She hopes to eventually take it to the track.
Jess summed up the familial link on her Facebook page: "Not many families have the connection we have, nor can they come together like we do at a race meet. I'm so incredibly lucky to be a part of a family that does it all together."