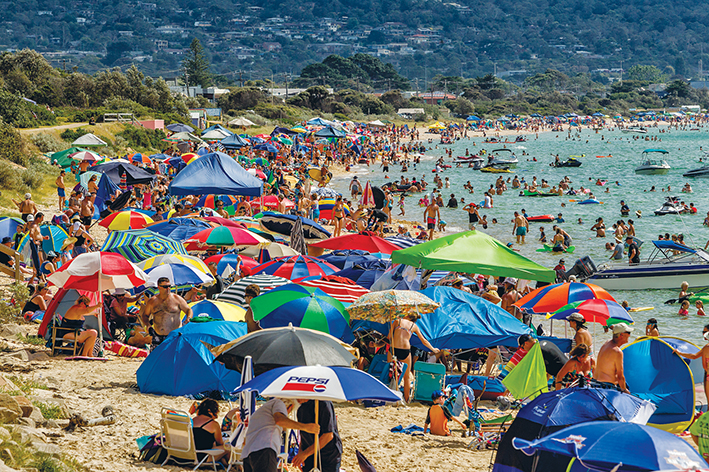 AS tens of thousands of holidaymakers descend on the Mornington Peninsula over summer, official statistics show record numbers of residents are out of work.
While locals may appear to be on holidays, the federal electorate of Flinders – covering most of the peninsula from Mornington south and across to Hastings and including Phillip Island – has had one of the highest jumps in unemployment across Australia.
A drop of 4.8 per cent in job participation rates puts Flinders as the second worst hit electorate in in the country.
Neighbouring Dunkley (Mornington, Mt Eliza and Frankston), saw a 3.1 per cent rise in the number of people without work.
Statisticians regard figures of this level as a "regional recession".
The figures released just after Christmas by demographic profiling company Australian Development Strategies rate employment trends in federal electorates throughout Australia.
John Black, a former Labor senator who heads Australian Development Strategies, said the increasing numbers of job seekers in the Liberal electorates could be problematic for the Abbott government.
Flinders MP and Environment Minister Greg Hunt sees the report as "a public relations exercise and should not be used for comment".
"Any suggestion that the Coalition is deliberately boosting job opportunities in Labor seats in order to win votes is ridiculous," Mr Hunt said.
"Demographically, the Mornington Peninsula has the second highest population of older people in Victoria, which means we have a higher percentage of people who are retired.
"The single best thing the government can do to help with employment is to have a strong economy, built around private sector participation and a budget that is balanced, not putting pressure on future generations."
Dunkley, held by Small Business Minister Bruce Billson, recorded the 13th highest rise in jobless.
Mr Billson said the New Year had started with "positive indications for the national economy" and he was "working hard to ensure these can flow on to the Dunkley community"
He said a record number of new companies had been registered in 2014, petrol prices were low and "jobs growth" in 2014 was nearly three times' that of 2013.
"In addition, monthly retail trade values continued to grow in October up by 0.4 per cent, to be 5.7 per cent higher through the year," Mr Billson said.
"The latest consumer price index shows that all Australians are now benefiting from a 5.1 per cent reduction in electricity prices following the scrapping of the carbon tax."
However, it seems that if any Coalition policies are helping create jobs they are mainly benefitting Labor-held seats.
Flinders and Dunkley are among many Liberal-held electorates where jobs have been lost in the past year, ending a run covering the past three federal elections where Labor seats saw the highest rises in jobless.
Since the election of the Abbott government Flinders and Dunkley have had the distinction of joining 28 electorates to record a rise in unemployment of more than 1.5 per cent in the past 12 months (24 of these electorates are held by Coalition MPs).
Mr Black said the three previous federal elections had been held at a time when the unemployed "tended to be found in Labor electorates" (The Weekend Australian 27/12/14).
"In the past 12 months, these residents of Labor seats have been finding jobs while residents of Coalition seats have been losing theirs," Mr Black said. He said electorates recording high rises in jobless numbers could be considered to have been in a serious economic downturn over the past year, with significant contraction of their local employment bases, with flow on effects in such industries as retail and hospitality.
The worst hit electorates included the demographics of "older female workers in part time jobs chasing more hours of work to make up for falling investment incomes and men driving themselves to work in a high street sales job which is now under pressure from falling consumer confidence".
Mr Black said year on year increases in those "not in the labour force" category "includes students and retirees, but also discouraged workers – the hidden unemployed".
"The 13 regional and outer urban mortgage belt electorates losing the most jobs [including Flinders and Dunkley] could be considered to be in a serious economic downturn over the past year, with significant contraction of their local employment bases and flow on effects on industries such as retail and hospitality," he said.
Mr Black said his report was based on jobs data collected by the Australian Bureau of Statistics.