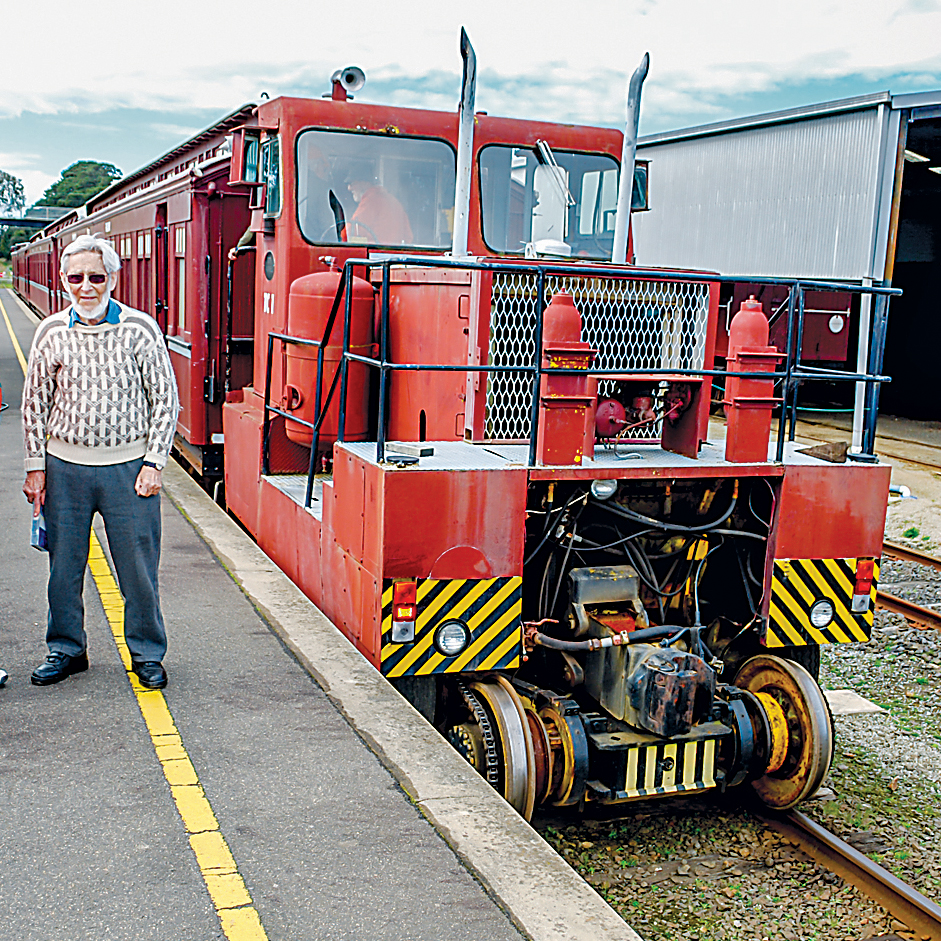 THE co-founder of the Mornington Railway Preservation Society, Howard Girdler, has died at age 85 of pneumonia.
Mr Girdler's funeral was held at Tobin Brother chapel in Mt Martha last Wednesday and as his coffin was being taken from the chapel to a hearse, the sounds of a steam train were played, putting smiles on the faces of crying mourners.
The former teacher was the driving force behind the foundation of the railway society, which saved the section of the rail line between Moorooduc and Mornington, although the society was unable to stop the state government selling the railway reserve between the light industrial area and the centre of town about 200 metres from Shire Hall Beach.
Mornington Railway runs heritage trains for tourists three times a month as well as on special occasions such as the 30th anniversary of the society and the 125th anniversary of the first train to Mornington last October.
Mr Girdler and Greg Dunkley, who owned a hobby shop in Mornington, founded the society in May 1984 following the government's closing of the train line in March 1983, although trains had ceased running in 1981.
After years of lobbying for permission to run a tourist train, in 1991 the government granted the society control of a 10-kilometre stretch between Moorooduc and Mornington.
The society restored a steam locomotive, 100-year-old carriages, and other rolling stock and equipment. It was first based at a BHP siding at Hastings in 1985, then at HMAS Cerberus in Crib Point in 1989 before a final move to Moorooduc in 1997.
The society started running tourist trains between Moorooduc and Mornington in 1999.
Howard Girdler was born at Castlemaine on Christmas Eve 1929 and lived in a house opposite shunting yards. He was educated at Castlemaine Technical School before completing a fine arts degree at Melbourne Teachers College.
He taught metalwork, woodwork, and art and graphics at schools in Casterton, Euroa and Moe (where he met his future wife Margaret, also a teacher) before taking a position at Mornington High School in 1963 where he stayed until the late 1970s. He taught at Karingal for the last two years of his teaching career before being forced to retire due to ill health in 1982 at age 53.
With time on his hands, Mr Girdler, who had a strong social conscience, became a frequent writer of letters to newspaper editor pointing out problems in the town before being challenged to do something about it.
He was a founding member of a citizens action committee, which initially focused on opposing Shire of Mornington plans for high-rise buildings on the Esplanade, and a proposal to replace the Esplanade between Mornington and Safety Beach with a four-lane highway. The group then turned its attention to saving the railway, which led to the formation of the railway society.
Mr Girdler was the society's first president and then its long-time secretary as well as in charge of railway operations. He also wrote about trains for magazines, and undertook research for books.
He was a sportsman who played cricket and table tennis in his younger years, and later umpired cricket games for many years. He was in charge of lighting for amateur theatre groups including Mornington's CEF Players.
Howard and Margaret Girdler had two children, Paul, born in 1961, and Jan, born in 1965. Mrs Girdler, who grew up in San Remo on the Bass Coast, said her husband supported her sporting endeavours – A grade hockey and state cricket. Paul and Jan also played cricket, Jan with the state under-21 side.
Mr Girdler stood down from the railway society as his health deteriorated but still volunteered as a train conductor twice a month, and then joined Peninsula Ship Society, holding the position of president, and was active until last August.
Mr Girdler is survived by Margaret, Paul and his wife April, Jan and her husband Bruce, and four grandchildren.