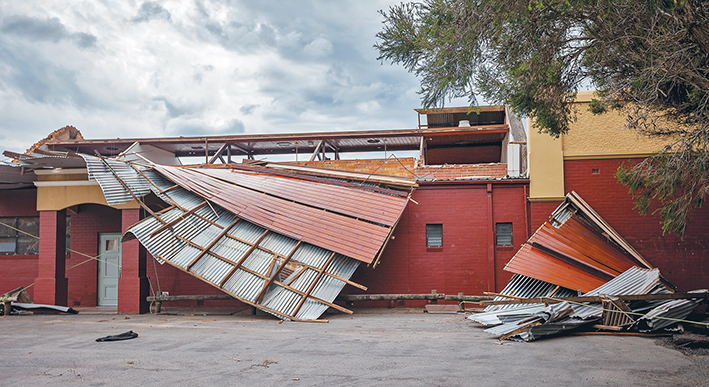 MORNINGTON Peninsula shire will continue clean-up efforts to remove debris caused by storms which hit Somerville and Tyabb last Wednesday.
Sixty buildings were damaged and more than 200 homes lost power. Trees were knocked down, and several roads blocked by fallen trees.
Some properties remained without power until Saturday.
The shire is removing debris – predominantly green waste – from roads and roadsides.
This includes vegetation from private property that has fallen onto the road or roadside reserve.
Somerville Mechanics' Hall lost its roof and the hall has been closed.
Mornington Peninsula Shire issued a news release saying it is aware of the community value of the hall and is working through repair options.
User groups have been notified and alternative venues are being arranged.
Residents can use the 'drop in centre' set up by the shire at the Somerville Recreation Centre in Edward St for relief, to access information, or to gain access to power.
Jones Rd was closed by police between Bungower and Mornington-Tyabb roads. Residents could only reach their homes through police roadblocks.
SES and shire crews responded to many calls to downed trees, traffic hazards, damaged buildings and flooding.
The municipal building surveyor inspected damaged properties.
"As clean-up efforts continue, we ask residents to avoid areas where storm damage is evident and take notice of road closures in the area," Mornington Peninsula mayor Cr Bev Colomb said.
"Residents should be cautious in these conditions, and be aware of any severe weather forecasts," Cr Colomb said
The shire's municipal emergency coordination centre at the Mornington office is assisting other agencies.
"Emergency teams have done an outstanding job in responding to this storm event and I thank the emergency services, including SES and Victoria Police, as well as members of our shire team, for their hard work throughout the event," Cr Colomb said.
"It is also important to thank the communities of Somerville and Tyabb for their ongoing cooperation and understanding as the clean-up continues, and for our residents to remain informed of relevant weather warnings."
Inspector Karen Nyholm urges motorists to take it easy on the roads and watch for debris and fallen branches.
"Drivers need to take care on the country roads and keep a look out for workers on the side of the road," she said.
"Police will be out and about managing traffic and we ask people to be patient."