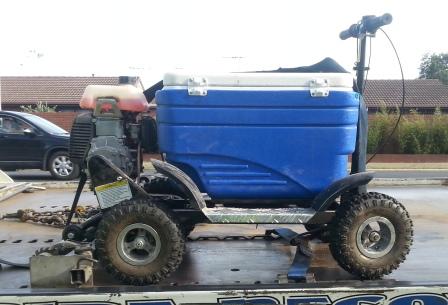 THE horrendous fines just keep on coming for the Rosebud West man caught driving his motorised car fridge alongside Point Nepean Rd on Saturday.
On top of receiving a $738 fine for driving while unlicensed, and $738 for driving an unregistered vehicle, he will be hit with another $500 release fee by the shire.
That makes for an expensive – $1976 – trip to the shops …
Hastings Highway Patrol police apprehended Chris Ryan, 29, driving his 49cc motorised esky on the footpath gave him a roadside breath test which came back negative.
His four-wheel petrol-powered esky was then impounded for 30 days under the Mornington Peninsula Shire's local laws relating to the use of unregistered recreational vehicles on council land.
It is believed Mr Ryan is disabled and has never been licenced to drive a motor vehicle. He told a weekend newspaper he believed a warning would have sufficed.
Facebook comments were mostly supportive of his stance: "Some of these coppers loosen up. So, who is booking the coppers when they break the law?" – Brad Skeels.
"It's public land – not council land; they work for us. It's the nanny state at work again. What's the difference between this and an old person's scooter." – Paul Lyon.
"What about people on those scooters? They are more dangerous. I have been run into many a time and they come so fast around corners. Sorry oldies and people with disabilities but you need to slow done." – Heather Templeman.
"You are kidding me? Can't we do anything anymore? This country is getting to be all about fines and getting money from you. This is a joke!" – Joanne Labriola
"Blimey! A bit of harmless fun. Go and catch the real crims." – Jennifer Kingston.
"Only Vic Pol could turn a funny story into revenue raising." – Anthony James Byrne.
"$1400 fine. I think that is ridiculous!" – Lisa Stewart.
The shire's general purpose local law was amended last March to give police the authority to seize and impound illegally ridden recreational vehicles, like 'monkey bikes' or motorised eskies.
A shire spokesperson said Mr Ryan's $500 fee includes a release fee and a fee for the tow truck.
"If the seized vehicle is not claimed within an appropriate time frame – 30 days – then the vehicle will be destroyed in accordance with the local law," she said.
Mayor Cr Bev Colomb said the local law amendment was a result of "ongoing safety and amenity concerns raised by our community and the police".
She said input from the local community and police was sought in developing the local law.
"Community safety is our priority and illegally ridden or modified vehicles can present a danger or possible injury to people, and can impact others' enjoyment of the area and their health and safety."
Mr Ryan reportedly claimed Rosebud police often saw him riding his esky — which can reach a maximum speed of 20kph — off road without taking action.
Electric bikes and four-wheel mobility scooters of less than 200 watts are allowed on footpaths provided they travel at less than 10kph.
Acting Senior Sergeant David Collins, of Hastings Police, said footpaths had to be kept safe for pedestrians. "They have a right to expect that they won't be bowled over when they are walking down the street.
"It's always difficult for us in cases like this: public perception may be with us or against us."