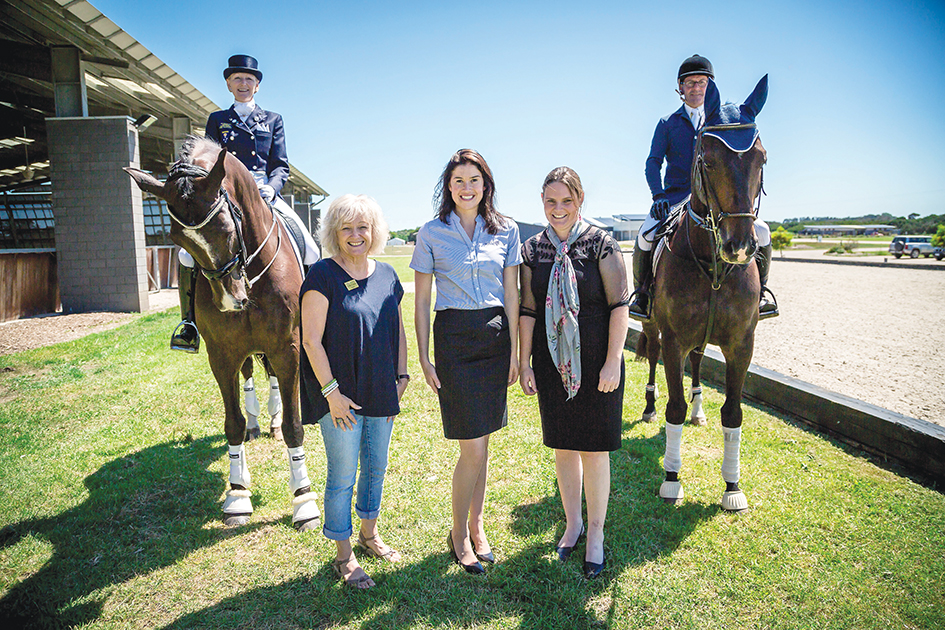 TOP line equestrian events, The Boneo Classic, will be held at Boneo Park Equestrian Centre from 22–25 January.
The event will feature the Pacific League World Cup Dressage Final and the final round of the Show Jumping World Cup Series.
Winners of each discipline will represent Australia at the World Cup Final in Las Vegas in April.
Mornington Peninsula mayor Cr Bev Colomb welcomed local riders Caroline Wagner and Jamie Coman at Boneo Park last week.
Wagner, of Somerville, won the 2014 Sydney International Dressage Event. She will compete in the Pacific League World Cup Dressage Final at the Boneo Classic. Coman, of Tuerong, represented Australia at the Sydney 2000 Olympics and is a former Australian Show Jumping national coach. He will compete in the Show Jumping World Cup Final at Boneo.
"It's a real coup for the Mornington Peninsula to have an event of this significance in our backyard," Cr Colomb said. "The peninsula's equine industry makes a substantial economic and social contribution to the community, with an estimated economic value of $142 million. The industry is vibrant and varied and the council is proud to be supporting the CDI Under 25 Grand Prix classes at the event.
"I'm sure our local and visiting horse enthusiasts can't wait to see the best dressage and showjumping combinations in action."
Boneo Park boss Fiona Selby said that as well as the serious equestrian competition in the arenas, there will be fun and entertainment for the family.
"The feature days are Saturday and Sunday (24 and 25 January) with its horse and pony rides, children's entertainment, the equestrian shopping village and a 'meet and greet' with Olympic riders," she said.
Details: boneopark.com.au
Tickets are also available at the gate.