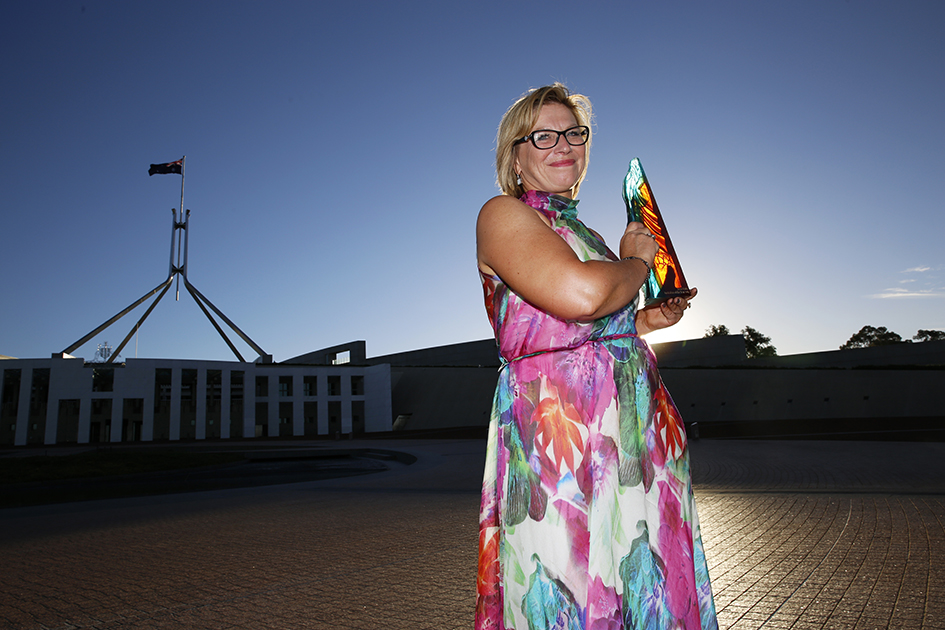 When a grieving mother spoke out calmly just hours after her son's murder, she gave voice to many thousands of victims of domestic violence who had until then remained unheard.
Rosie Batty has risen above her personal tragedy and the great loss of her 11 year old son, Luke, who was the victim of domestic violence at the hands of his father in a very public assault.
Rosie's story jolted Australia into recognising that family violence can happen to anyone.  Victorian Police Chief Commissioner, Ken Lay, praising Rosie as the most "remarkable victim" he has ever met, says Rosie has put domestic violence on the national agenda.
Rosie now champions efforts to fight domestic violence, making many media and public speaking appearances to shine a spotlight on the issue and call for systemic changes.
Rosie's incredible strength and selfless efforts are an inspiration to many other victims of domestic violence and her courage and willingness to speak out will make Australia a far better place.
THE FULL TRANSCRIPT OF ROSIE'S AUSTRALIAN OF THE YEAR SPEECH:
I am truly honoured and I would like to dedicate this award to my beautiful son Luke. He's the reason that I found my voice and I'm able to be heard.
Whilst we celebrate the wonderful country that we live in today, there remains a serious epidemic across our nation.
No matter where you live, family violence exists in every pocket of every neighbourhood.
It does not discriminate and it is across all sections of our society.
Family violence may happen behind closed doors, but it needs to be brought out from these shadows, and into broad daylight.
One in six women has experienced physical or sexual abuse by a current or former partner, including some of those celebrating with us today. One in four children.
And at least one woman a week is killed.
Indigenous women experience even greater family violence.
These statistics are unacceptable, indisputable, and if they did happen on our streets, there would be a public outcry.
To our government, we need your strong leadership to change these rising statistics and your investment into both preventing the violence and long-term, secure funding to our specialist women's services to deliver the intensive support so desperately needed.
And to the Australian people, look around. Do not ignore what you see and what you know is wrong.
Call out sexist attitudes and speak up when violence against women is trivialised.
To men, we need you to challenge each other and become part of the solution. Raise the conversation and don't shy away from this uncomfortable topic. We cannot to this without you.
To the women and children who are unsafe, in hiding, or living in fear. Who have changed their names, left their extended families, and moved from their communities to find safety. You do not deserve to live a life that is dictated by violence. You are not to blame.
Violence towards anyone; man, woman or child, is never acceptable, and never the right choice. It is simply not ok.
As the Australian of the Year, I am committed to building greater campaigns, to educate and challenge community attitudes.
I am on a path to expose family violence and to ensure that victims receive the respect, support and safety that they deserve.
And to Luke, my "little man", you did not die in vain, and will not be forgotten.
You are beside me on this journey. And with me every step of the way.