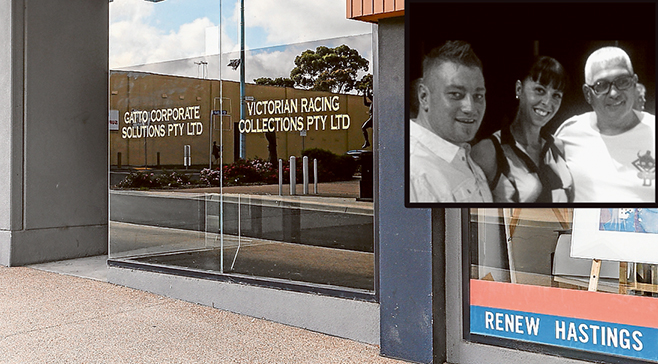 A DEBT collection firm with links to underworld identity Mick Gatto is setting up shop in Hastings.
Gatto Corporate Solutions Pty Ltd, a debt purchasing company which buys debts then pursues creditors for the money owed, has leased office space in High St, opposite Hastings Library.
Gatto's surname is on the office window but the former boss of the notorious Carlton Crew is not a current co-owner of the business despite initially owning one third of its parent company Gatto Corp, via a private company, when it was formed in 2009.
Gatto Corporate Solutions managing director Anthony Swords told The News he is the sole shareholder and "Mick's my mentor".
He said the firm "does everything" in the building industry and horse racing industry.
"Everyone thinks it's just a debt collection office but it's not. We set up companies as well, give business advice, do mediation and negotiations when people try to buy or start a business."
Mr Swords said he has signed a two-year lease for the "satellite office" for Gatto Corporate Solutions.
The firm also has an office in Point Cook. Mr Swords said "cheap rent" and the Hastings location is appealing.
"I've got a farm in Junction Village so I'm only 15 minutes away.
"It's a good place to be … the shop there is pretty much what I was paying for my car park in the city."
He said Gatto Corporate Solutions has signed a two-year lease with further options at the Hastings, High St office and "a minimum" of three admin staff will be based there.
"I run out of Lygon St – I have most of my meetings in Lygon St in Carlton," Mr Swords said.
The Hastings office also has the company name Victorian Racing Collections Pty Ltd emblazoned on its window.
"That is primarily a debt collection agency," Mr Swords said.
"It's all over Victoria but obviously there's a lot of trainers out Western Port way and Cranbourne way so it's just convenient to be out here."
The Gatto Corporate Solutions website states some outstanding debt cases "require more vigorous action". When asked what this entailed, Mr Swords said it could include legal action.
"It might mean you go to court … I have a couple of solicitors who work for me and everything we do is done legally but the way we work is we assign people's debts so we take them on and they're our own. So we collect them however we want."
The Hastings premises leased to Gatto Corporate Solutions will also be a base for fundraising volunteers for a charity called We Were Champions which saves racehorses from the knackery.
We Were Champions was granted official charity status in 2013 and was established by Gatto Corporate Solutions.
Mr Swords said since it had taken "over a month" to get the lease sorted out he "knew a bit" about Hastings and is impressed with the Renew Hastings project which fills empty shopfronts with "pop-up shops" including spaces to exhibit artists' works.
"This could be a good chance for Hastings as well … some of the things we do is help people set up their own business.
"There's a good future for Hastings with the port coming in. It's just a nice little place."
Gatto Corporate Solutions will officially open for business next week.
First published in the Western Port News 
This article has been amended. The original report stated the office was leased by Century 21 real estate agent Chris Watt. This is not the case. 
Mr Watt has had no business dealings with Gatto Corporate Solutions or Victorian Racing Collections.