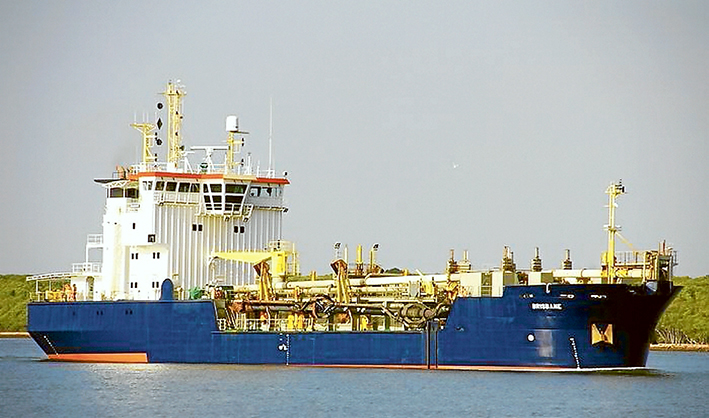 PORT of Melbourne Corporation will dredge the South Channel of Port Phillip for a week from 19 February as part of its "maintenance dredging" program.
The port authority stated the work was needed to ensure safe navigation of declared channel depths in the channel between Rosebud and The Heads. Dredging would remove high spots revealed when the corporation carried out hydrographic surveys last year.
It will be done by 84-metre trailing suction hopper dredge Brisbane, which was in Port Phillip for maintenance dredging last year.
It is the same type of dredger as the Queen of the Netherlands, which did the bulk of work for the massive 2008-09 channel deepening project, which was estimated to cost $1 billion but came in $200 million under budget, according to the then Labor government.
The dredger will take material from South Channel West to the corporation's dumping site in the middle of northern Port Phillip, where toxic matter from the 2008-09 project was dumped and covered with clean sand, mostly taken from South Channel.
Brisbane will also remove clean sand from the corporation's so-called South East Dredged Material Ground off Mt Martha and take it to the northern DMG to cap material removed from the port precinct last year. This will take about eight weeks.
In May, maintenance dredging will be done at the northern end of Port Phillip including shipping channels in the port precinct. This will take about six weeks.
The corporation stated all work would be done in accordance with its 2012-22 (10-year) environmental management plan. It has notified bayside councils.
The work will start just before the release of results from a state government-commissioned survey of the cause of massive erosion of Portsea Beach. Consultant WorleyParsons has been monitoring wave data following the release of two controversial reports in 2013 that blamed increased swell coming into Port Phillip from Bass Strait for the destruction of the beach either side of Portsea pier
In mid-2013, Nepean MP Martin Dixon said "further monitoring of wave characteristics will be carried out over the next 12 months".
"The Department of Environment and Primary Industries is hopeful that the data from this offshore monitoring will help identify the root cause of the increased swell at Portsea and will inform a long-term approach to successfully restoring the beach," Mr Dixon said.
A schedule, maps and the environment plan for the latest dredging is on the Port of Melbourne's website: www.portofmelbourne.com