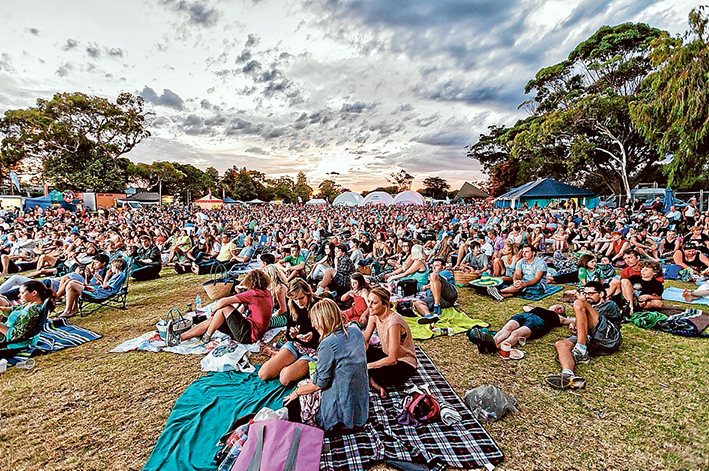 ABOUT 3500 people packed Rosebud's Village Green on the foreshore for the Peninsula Short Film Fest, delighting organisers and cementing it as one of the peninsula's premier arts events after just four years.
The films were streamed to Federation Square in Melbourne.
Festival founder Steve Bastoni said the event generated a "fantastic, friendly community feel" and the galaxy of acting stars who came down to Rosebud "loved it".
Bastoni, a Rosebud resident and award-winning actor (On the Beach, The Matrix Reloaded, The Water Diviner, and Blue Murder), started the festival in 2011 to give his acting students a forum for their work, and it has grown like topsy and generated a buzz in the Australian film and TV industry.
"Short films are a great way for emerging actors, directors and writers to hone their craft," he said.
Filmmakers did not need huge budgets to create sophisticated films.
"The 88-minute feature film Tangerine, which debuted at Sundance Film Festival in the United States last month, was shot entirely on an iPhone 5S with an anamorphic adaptor lens that gives footage a cinematic look," he said.
The filmmaker also used a stabiliser and an app called Filmic Pro. The adaptor lens was made by US company Moondog Labs.
Judging the 12 short film finalists this year were Michala Banas (Upper Middle Bogan, Neighbours, Party Tricks, Winners and Losers) who was in great demand for "selfies" with patrons, Jane Hall (Neighbours, The Secret Life of Us and Kiis FM presenter), Andrew Mason (producer of The Water Diviner, The Matrix, Dark City, Tomorrow When the War Began, Saving Mr Banks), Lachy Hulme (Howzat! Kerry Packer's War, Beaconsfield, Offspring), Samuel Johnson (The Secret Life of Us, Rush, Underbelly, Paper Giants) and Nadine Garner (City Homicide, The Book of Revelations, The Doctor Blake Mysteries).
Lachy Hulme and Samuel Johnson were judges at the inaugural festival, and Hulme has returned every year.
Bastoni said crowd favourite was Kai Smythe's Loving Myself, "a ribald, raunchy take on new age attitudes", which took second prize and won best actor for Smythe.
Festival winner was Noddy, directed by Ben Plazzer, who won best director, and written by Ann Murison, who won best screenplay.
"Plazzer's triple treat was made even sweeter by the presentation of the award by legendary film director Fred Schepisi," Bastoni said.
Third was Palindromes by Nicholas Colla. Best cinemaphotography went to The First Stone, created by Rach Moors-Chantry and Andrew Tomazos.
Festival-goers were treated to a Q&A session with ace producer Andrew Mason and moderator David Redman of Open Channel.
The Woodleigh School award for emerging filmmaker went to 16-year-old Liam Kelly, of Rosebud, who made Drawn.
The 12 short films, three animations, and Bastoni's 2014 short film The Decision (with actors from the peninsula including leads Jake Elso and Issy Weiskopf, and supported by Mornington Peninsula Shire) are screening at a pop-up cinema near Rosebud Plaza's food court until 20 February.
- Steve Bastoni's six-hour workshop "How to make a short film" is at Frankston Arts Centre on Saturday 21 February, and is suitable for people aged 10 years and up. Tickets $75. Bookings: 9784 1051 or artscentre.frankston.vic.gov.au