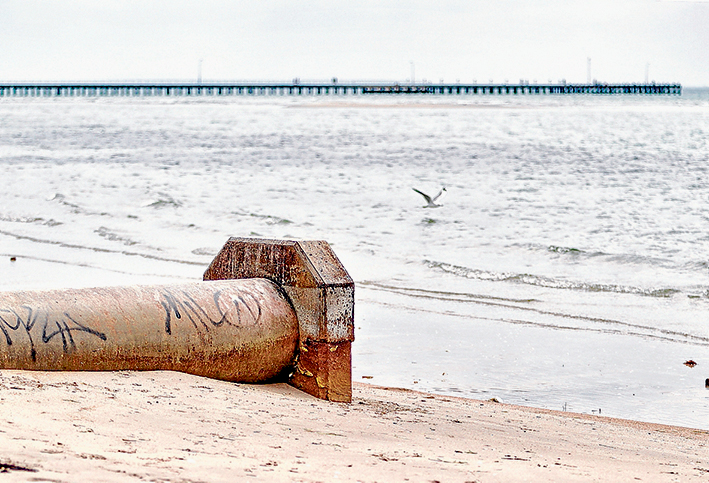 POLLUTION of Rye Beach is being investigated by the state Environment Protection Authority and Mornington Peninsula Shire's environmental health team.
The probe was revealed to the council on Monday last week by the shire's communications manager Todd Trimble during his annual "summer report".
He said the two bodies were "conducting a risk assessment of Rye Beach to determine possible sources of bacterial contamination detected".
"As part of the assessment, the environmental health team is assisting Monash University and Melbourne Water in a bacterial water sampling program around the Rye Beach stormwater outfall, including sampling from septic systems and groundwater bores," Mr Trimble said.
Twenty-four beach water samples and five drain water samples had been taken so far with "further samples to be taken twice weekly until the end of February".
"Monash University has reported that the results so far indicate Rye Beach is a "hot spot" for bacterial contamination with higher E.coli levels than other Port Phillip beaches." (E.coli can be an indication of faecal pollution.)
"Further investigations are being undertaken to determine the source of contamination."
Meanwhile, South East Water's Peninsula ECO sewerage project is almost halfway through its expected 30-month construction period, installing mains sewage for 16,000 properties between Rye and Portsea that had septic tanks.
The project, one of the largest in Australia, started in late 2013. It is expected to markedly reduce ground water pollution.
Toilets at R J Rowley Reserve in Rye were connected to the system last October, which will no doubt please people who attend the Rye Gift each year and previously had to deal with an unwanted annual "gift" – clogged toilets.