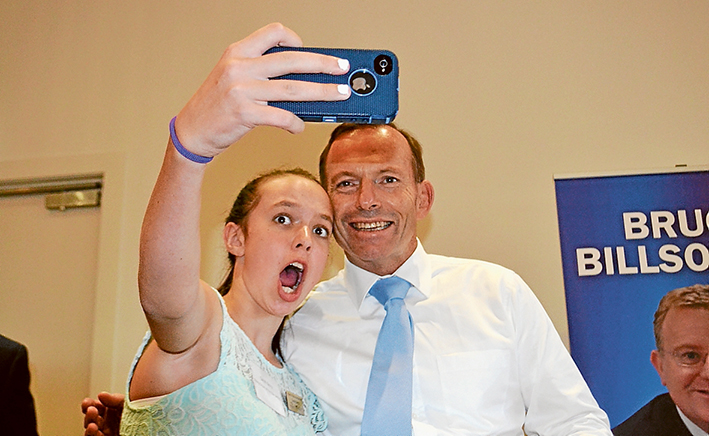 PRIME Minister Tony Abbott made a flying visit to Frankston last Thursday afternoon for "an afternoon tea with community members".
Mr Abbott addressed the invited guests – including Liberal Party members, school principals and council representatives – at Frankston RSL flanked by Dunkley MP and Small Business Minister Bruce Billson.
Mr Billson has been highly visible in his support for the embattled Prime Minister both before and after this month's failed Liberal leadership spill vote last Monday (8 February).
Mr Billson told The News he knew the Prime Minister would be visiting Frankston "a few weeks ago".
Mr Abbott made certificate presentations to the Frankston and Mornington Peninsula Shire citizens of the year recognised by their respective councils on Australia Day.
"It was an opportunity to convey thanks and appreciation to the selfless individuals who contribute a great deal to the wellbeing and vitality of our community," Mr Billson said.
"Beyond that he mingled for about an hour with the people who were present."
"It's a key priority for us … it's very much in the frame of the government's agenda for the year ahead. The message I get is 'get on with it' … we've got a plan that the nation needs," Mr Billson said.
He insisted "we've got an experienced and stable team" despite the leadership speculation this month.
"We've got some runs on the board already with the abolition of the carbon tax, the re-establishment of proper border protection arrangements and infrastructure projects.
"The best thing we can do is knuckle down, get on with it and lift our performance."
Media was invited to attend the afternoon tea at Frankston RSL to take photographs but was advised Mr Abbott would be making "remarks" and would not be taking questions at the event.