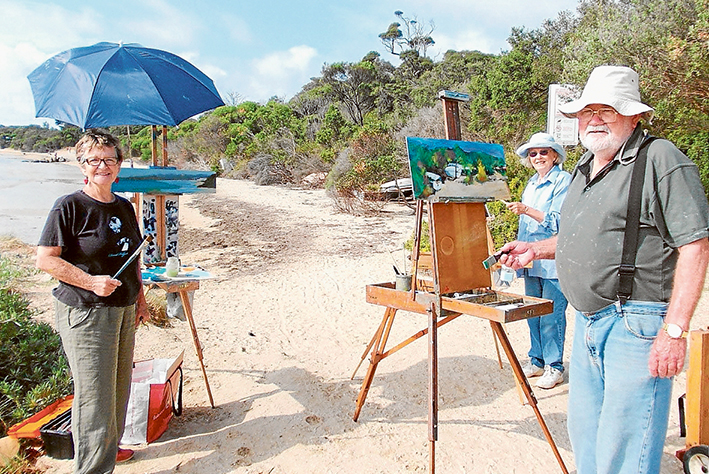 IT DOESN'T take much to get a plein-air painter out of the house.
If it's a Thursday and there's a chance of the sun coming out it's a safe bet the Mornington Peninsula Plein Air Painters are someplace scenic putting on canvas what they see before them.
Asked why they choose to paint in the open away from their studio they will say that you can never capture the feeling and the colours from a photo or a pre-determined image that you can on site.
Visitors can see this for themselves over three days from Friday 6 March at the Sorrento Activity Centre.
En plein air is a French expression which means "in the open air" and was favoured by such noted impressionists as Monet, Pissarro and Renoir and later masters such as Guaguin and Van Gogh. Notable Australian artists of the form include McCubbin, Heysen, Roberts, Namatjira and Streeton.
The painters visit many beautiful sites on the peninsula from Cameron's Bight and Millionaires Walk (Sorrento) to Cape Schanck and Seawinds.
The exhibition will be opened by art critic and writer Susan McCulloch at 7pm Friday 6 March. It continues 10am-4pm until Monday 9 March.
Entry is $3 and wine and light nibbles are provided.
Sorrento Activity Centre at the corner of Melbourne and Queens roads, Sorrento. Details: 5985 5770. Fred Wild