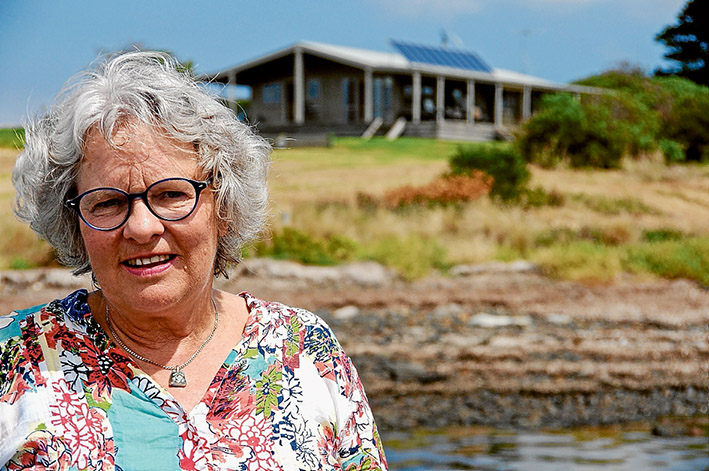 FEW people get to live on a small island close to a major city. Even fewer can claim they are the island's sole inhabitant.
Anne Tillig has been in that enviable situation since 1996 after buying Elizabeth Island with her late husband, Ivan Vit.
The 26 hectare island is close to the south east corner of French Island and an eight kilometre boat trip from Corinella and just over twice that distance from Stony Point.
Isolated it might be, but Elizabeth Island has all mod cons, including mobile phone and internet access, there are adequate water tanks, bottled gas and it is self-sufficient for power with a wind generator and solar panels (there is also a back-up diesel generator).
Last Thursday the island's population briefly jumped to more than 40 with the arrival of a boat making an ecological tour of Western Port.
Ms Tillig, who rents out the house she built in 2004 after the death of her husband in 1999, divides her time between the island and a property near Daylesford.
However, that lifestyle may be about to change with Ms Tillig (through real estate agents J P Dixon) seeking a buyer for her island home. As the island is officially an unincorporated freehold area there are no council rates involved and no roads to maintain.
Up to half the vehicles on French Island are unregistered and its residents also pay no council rates.
With passengers from the Sea Sprinter gathered around the outside of her house, Ms Tillig described how she had planted more than 1000 trees and successfully managed to grow her own vegetables.
Experts had been unable to agree on what type of trees had historically grown on the island as it had been cleared for farming.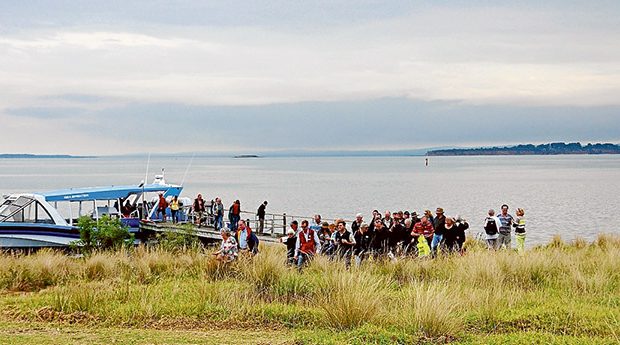 "I was told sheep had grazed here and it was regularly burnt," Ms Tilig said.
The island had a large population of water rats which were annually driven by fire into strategically placed nets, with their pelts being sold to furriers who would use them for clothing.
A work hazard had been the copperhead snakes also fleeing the fire and getting caught up in the nets.
Ms Tillig has made sure the island is free of rabbits and cats and it took some time before the snakes returned in any great number.
"I often see their tales, but they are shy," she says.
On a clear day the views from the island encompass French Island to the north, Corinella to the east, Cape Woolami on Phillip Island and the
bridge connecting the island to the mainland at San Remo, the northern shores of Phillip Island and the eastern coast of the peninsula, towards Point Leo and West Head at Flinders.
Visitors staying on the island can arrive by boat or charter a helicopter.
Once there, they can roam about the island, climbing its 20 metre high hill, go fishing or explore the pebble strewn beach or rock pools at low tide.
A shipwreck on the western beach is believed to be the remains of a rescue boat from a German ship.
Ms Tillig tells a tale about a former owner of the island crashing his plane on French Island while attempting to view Elizabeth Island after buying it in a bar.
It is now Ms Tillig's time to sell, with expressions of interest closing 17 March.
The three-bedroom house built by Ms Tillig has two bathrooms and there are plans and permits for another bungalow.
While real estate agents admit it is hard to put a price on such a property, they believe Elizabeth Island will sell for upwards of $5 million.