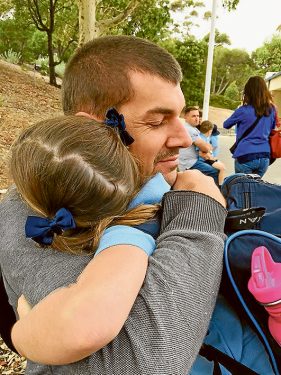 AN early morning bike ride on Friday 6 March has left a father of three young children fighting for his life.
Luke Matthews, 34, from Mount Eliza, was riding along Beleura Hill Road in Mornington at about 6.45am when he was hit by a concrete truck travelling in the opposite direction.
Mr Matthews was knocked off his bike and suffered severe life threatening head injuries.
The truck driver, a 57-year-old male, from Woodleigh Vale, has co-operated with police investigations.
Mr Matthews, who works for ANZ Bank, moved to Mt Eliza from Mentone in 2008 for the open space that Mount Eliza offered.
He has three daughters eight years old and under; Sophie, Annabel and Olivia.
"It is terribly difficult for these young kids. The fear and uncertainty they face is just heartbreaking," said family friend Rowena Beach.
"Luke's wife Karen has to pick up the pieces and carry on as well as she can."
Mr Matthews has been in an induced coma since the accident, and attempts to bring him out of the coma have failed; his body reacting badly when doctors tried to lower his sedation levels.
"He required urgent surgery for his head and facial injuries, including the removal of part of his skull to relieve swelling on his brain," said Ms Beach.
"To make matters worse, on Friday a serious chest infection set in, which is a side-effect of having the breathing tube in".
The prognosis is poor for Mr Matthews, with family and friends being told he only has a 50 percent chance of survival.
"The reality is setting in for the family," said Ms Beach.
"If Luke does pull through, it appears likely we are looking at a lifetime of disability."
Friends of Luke's have started a Go Fund Me page to raise much needed funds for the family.
"They are just an ordinary family who now face an uncertain future. We hope people will be able to dig deep to help with the bills and mortgage payments that are now going to become a struggle."
The website is at gofundme.com/lukematthews