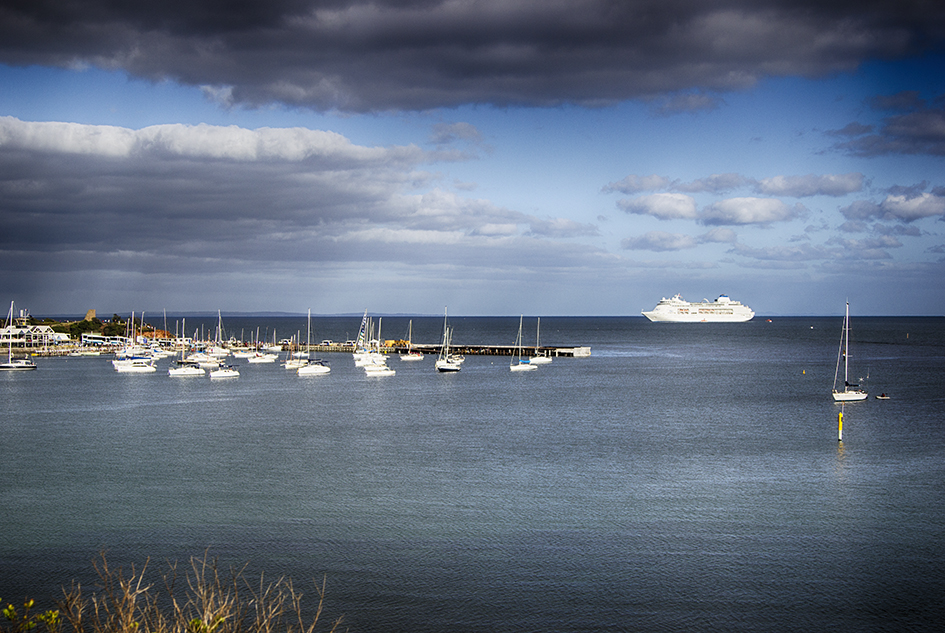 CRUISE ship passengers will again visit Mornington Wednesday on the second P&O stopover in a month.
The same ship that arrived on 24 February – the 63,700-tonne Pacific Pearl – will cruise direct from Sydney to the peninsula and return on a four night, one-stop voyage.
This second visit is a vote of confidence in the town's ability to interest and entertain its 1700 passengers, with most – again- expected to remain in Mornington enjoying the town's attractions, while 30 per cent are expected to visit Peninsula Hot Springs or ride the Mornington Explorer bus to Arthur's Seat and Sorrento for sightseeing.
A P&O spokeswoman said sister ship, Pacific Eden, would visit Mornington on 12 and 30 January next year and the Pacific Jewel on 6 March. The 12 January visit is an eight-night cruise taking in Eden, Mornington, Portland and Kangaroo Island, and the latter two are four-night cruises direct from Sydney and return.
Tomorrow's visitors will be invited to sample wares at the 30-year-old Wednesday market in Main St, which sells home-made produce such as jams, olive oil, preserves, sauces and anti-pasto, alongside the usual crafts, clothing, accessories and jewellery. There will also be alpacas and live music, and shuttle buses all day back to the ship.
Mornington Chamber of Commerce spokeswoman Kim Rowe said passengers alighting from tenders would again be welcomed at the pier.
"It's the little things like this that make a difference," she said.
"The cruise line people were hugely pleased with our welcome – and especially the signs welcoming them to Mornington. Apparently we were the only township to give them such a warm welcome."
The Pacific Pearl had by then visited Eden, on the NSW south coast, to visit Mornington, Portland and Kangaroo Island over eight days.
A P&O spokesman agreed the cruise visit "was clearly a big event for the local community and it showed".
"There is always something fresh and special about a new destination because everyone is trying so hard to make it a success and that was certainly true of Mornington," he said.
"Our passengers love meeting local people wherever they go and the warmth of the welcome can determine the success of a cruise call and Mornington certainly lived up to the warmest of expectations."
Mornington is being used as a 'case study' by the cruise line on how they should conduct regional visits. Ms Rowe said she believed "other cruise line operators were looking fondly at us" and that extra ships' visits were possible.
She said a "guestimate" was that $150,000-$200,000 was spent in the "local precinct" on the first visit, or around $100 per passenger. This included fees for anchoring and using the pier.
The expected five visits would generate around $1 million, she said.
Tour bus drivers have been asked to drop ship passengers off in Main St rather than at the pier, so more people will be able to attend the market. Again, shuttle buses will run up and down Main St.