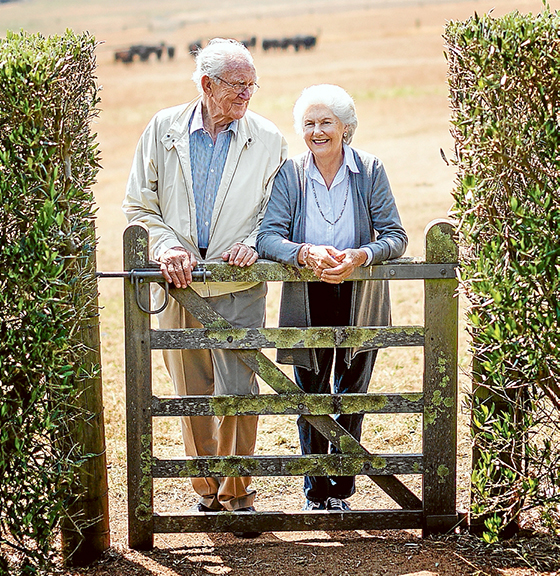 Fran Henke spoke to Tamie and Malcolm Fraser in 2013 about their love of gardening. 
When the President of Open Gardens Australia says this will be the last time of opening her garden, you have to wonder why. Age? Aggravation?
Twenty five years ago Tamie and Malcolm Fraser opened their garden in Victoria's western district to support the new scheme and to help keep staff going on their property, 'Nareen'.
"There was drought, stock prices were low, it was a difficult time," said Mrs Fraser now president of Open Gardens Australia.
A different story today: the Frasers have gardened at Merricks for 14 years and you'd think that with former Prime Minister Malcolm Fraser in his early eighties, his wife in her seventies, they would wish to retire. Far from it.
"It's very expensive to open the garden," said Mrs Fraser candidly. "The first time we had to rebuild the bridge. This time following the wet winter, the paddocks used for parking were very pocked and we had to have them smoothed out."
When their garden 'Thurulgoona', attracts around 10,000 visitors over two days, parking is extremely important.
"But I said last time that would be the last time," Mrs Fraser smiled.
"They are very long two days," she explained. "Opening the garden starts on the Thursday with set up. And the scheme wants owners to be there to answer questions," she said.
You wonder how the notoriously gruff Mr Fraser handles this. But he was charming this day, accepting instructions from Yanni (photographer) on where to stand in his own garden, being extremely interested in the cameras and lenses chosen to deal with deep shade.
Inside, when Mr Fraser has disappeared on men's business, a camera magazine on the table reminds he is a keen photographer too.
We talk through elements of gardening, colour, water, sound, and I remind Mrs Fraser of complaints about the 'Nareen' garden being 'too green' all those years ago.
"We opened the garden to buses and a group came from Footscray, they were so disappointed. It was the end of autumn and little was out", she recalled.
The Frasers are hardly retiring types. They chose to live on the peninsula after considerable exploration she said, because "people here are doing things, elsewhere they seemed too retired". I noted how agile Mr Fraser is for his age, bending to weed, to deal with Choc and Grizzle the dogs, moving easily.
"He's good isn't he," she agreed with clear pleasure.
They play golf (at Flinders) Mr Fraser has a shed, home to his woodturning equipment, and he has a boat. On top of presidency of Open Gardens, Mrs Fraser has long supported Red Cross, which will benefit significantly from the popularity of the Fraser garden.
She describes the garden design as "flagrantly amateur", populated by "impetuous purchases and gifts from friends", so is there a colour scheme?
"No, and not a lot today, I cut everything back after Christmas to time with the opening days (February 16 and 17). There will be yellows and mauves beyond the rose garden, blue geraniums in front of the roses."
Mrs Fraser said she doesn't design her garden for what other people think about colour or anything.
"I don't like structure in the garden, we have done our own thing."
She doesn't like garden rooms but prefers the garden to lead where it will. The 'Thurulgoona' garden flows from sitting areas overlooking the property and valley to a smoke-hazed Western Port, around to the "cigar garden for family and friends with anti social habits". Here too are Mr Fraser's camellias. He is famous for breeding the registered C. japonica 'Tamie Fraser'.
Four years ago I asked Dame Elisabeth Murdoch if she still wanted to make changes to her garden, so asked Mrs Fraser that question.
"There are always changes to make in a garden," she replied. "We planted too closely. Fourteen years on there's too much shade under the oak and some plants need to be shifted or thinned out."
And not everything worked at first. Significant earth works were undertaken to make the garden intimate and accessible.
"The house was on a very steep slope and we wanted it to sit into the garden," Mrs Fraser said.
An experienced dozer operator moved earth from under the tennis court and around the shed.
"I had collected seed from 'Nareen' of favourite plants and spread them when the top soil was replaced, but nothing came up, not one plant.
The soil structure had been too disturbed," she said showing early pictures of a red clay desert.
The garden is watered from two picturesque lakes near the long drive, providing a grand entrance, slowed by ducky inhabitants basking in dust.
When looking for the new home, Mrs Fraser said big trees were important as she loved the sound of wind through cypresses at 'Nareen'. But there were none at what was to become 'Thurulgoona', so hundreds have been planted providing windbreak and windsong.
They have help in the garden once a week, more often closer to open day.
As president of the scheme, Mrs Fraser points out Australia's is the second largest open garden scheme in the world, over the US. Britain where it all began, is the busiest.
She loves the idea of people being able to wander round other peoples' gardens. "And you learn so much from visitors", she added.
I asked about the property name, having found a reference to 'Thurulgoona Station' in Henry Lawson.
"It was Malcolm's great grandfather's property (SW Qld) where he discovered the first artesian water in Australia," Mrs Fraser replied.