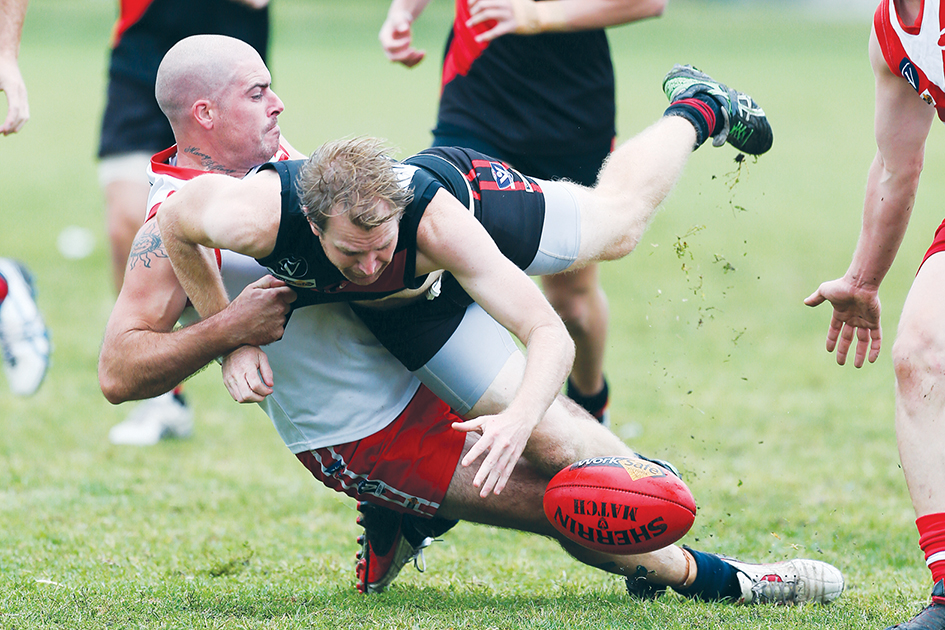 PENINSULA LEAGUE PREVIEW
EDITHVALE and Bonbeach will launch the 2015 Peninsula League football season on Good Friday.
There has been enormous talk about both clubs in the pre-season but both should still be thinking about finals in 2015.
Edithvale should be eyeing off a place in the top three, given it has sensational teenagers coming through the system, as well as the fact that Brett O'Hanlon has returned from Richmond.
Bookends Nick Connellan and Brent Bowden are noticeable departures but they haven't really lost a lot of others.
Some quality teenagers have gone to try their hand in the VFL but that still doesn't change the fact that they have retained many others.
Brad Tagg was a player many thought was leaving but he has remained, as have the recruits that they picked-up the year before.
Bonbeach on the other hand have lost plenty. How they recover from this will be interesting to watch.
Shane McDonald and Paul Rebeschini are the biggest outs, while the likes of Ricky and Jason Ferraro, Cal McQueen, Danny Ades, Matthew Batten, Justin Bennett, Matt Clifford, Nathan Hicks, Rob Horler, and Anthony Raso are reasonable names to have lost.
A big recruit for the Sharks has been former Collingwood and Carlton ruckman Chris Bryan. The Sharks' reserves also played finals footy last season, so there is an element of depth.
On Easter Saturday, another massive contest is Pines v Seaford.
The Tigers were just OK last season and have lost Tom Shaw, who is a massive out. They do regain Pat Cadd and Chris Fortnam from Pearcedale but they are past their best.
Coach Ben Crowe needs to have a massive year and the many kids he introduced last season need to take the next step.
Pines has been a talking point in the off season.
Former Richmond, North Melbourne and West Coast Eagle forward Aaron Edwards has been the talk of the town.
He will play a little higher up the ground while Guy Hendry remains the focal point.
Luke Potts, a Pines boy, he returns home to where it all began.
Despite the two big recruits new coach and former Python premiership player Pat Swayne believes structures and natural improvement will be where significant change is seen.
"I think Pines went through the motions last year and played without a lot of game style or structure," Swayne said.
"We have worked tirelessly on this over the summer and believe we have a system that is capable of being really competitive.
"Our practice match form against Cranbourne, Rowville and Rosebud has been solid and I'm confident we'll be more competitive than we were last season.
"Other than Frankston YCW, who is the reigning premier and stand-out, I think the season is wide open.
"Our quality of depth has improved, there's a real hunger amongst the group and I think we have genuinely 32 guys vying for a senior spot each week. That's great for the club," Swayne said.
Around the other clubs, Frankston YCW has added guns Anthony Bruhn and Paul Minchington from Frankston YCW, along with Lew Roberts, who returns, and Luke Collins, a star onballer who has played in Sale for the past three seasons.
They lose the likes of Josh Westerman and Billy Rolfe to Somerville and Anthony Barry to the VFL but the premiers will still be the yardstick.
Karingal, under the guidance of new coach Michael Burke, is likely to improve but hold up the rest of the table.
There's eight teams who all have genuine claims on a top three spot.
INS AND OUTS
Bonbeach
Outs: Danny Ades, Matthew Batten, Justin Bennett, Matt Clifford, David Comben, Jason, Ferraro, Ricky Ferraro, Paul Rebescini, Nathan Hicks, Rob Horler, Shane McDonald, Cal McQueen, Anthony Raso, Nathan Bobinsobn, Brad Sykes, Michael Turville.
Ins: Jack Alexndwer (EFL), Chris Bryan (SFL), Anthony Carrio (NFL), Daniel Hogan (VAFA), Adam Nichols (SFL), Bailey Partyka (AFL Barwon), Sheldon Price (SFL).
Chelsea
Outs: Fabian Deluca, Jake Greeley, Fia Tootoo.
Ins: Brick Adams (AFL Canberra), Matt Crichton (EFL), Jack Francis (VAFA), Brent Guerra (WRFL), Jordyn Hall (SFL), Ben Joss (EFL), James Nanopolous (SFL), Corey Peele (VAFA), Tom Rayner, Brett Scarcella (SEFNL), Daniel Stafford (AFL Central Australia), Craig Sterling (VAFA), James Symons (SFL), Daine Taylor (WRFL), Darren Walsh (SFL).
Edi-Asp
Outs: Brent Bowdoen, Nick Connellan, Brad Gilder, Jeremy Heys, Jack Holden, Tom Lamb, Beau Turner, Darcy Warke.
Ins: Justin Chant (SFL), Ryan Cunningham (SFL), Brody Lawford (SFL), Elliott Macquire (VAFA), Michael Meehan (VAFA), Brett O'Hanlon (Richmond), Adrian Stewart (SFL).
Frankston YCW
Outs: Anthony Barry, Dale Carroll, Tim McGennis, Josh Pickess, Billy Rolfe, Lachy Wallace, Josh Westerman.
Ins: Anthony Bruhn (Dromana), Luke Collins (Sale), Paul MInchington (Dromana), Tom Olden (Alberton), Lewis Roberts (Riverina), Daniel Waddell (Dromana).
Karingal
Outs: George Angelopolous, Sojitha Jayasinghe, Ray Lengyel, Tom Wilkinson.
Ins: Mark Anderson (SFL), Kyle Angwin (West Kimberley), Chris Chalmers (SFL), Damen Green (VAFA), Aaron Jack (SFL), Brodie DEmpster (EDFL), Aaron Lees (Seaford).
Langwarrin
Outs: Nick Tuddenham, Ash Collins, Jason Curry, Beau Muston, Shelton Rossario.
Ins: Travis Boldock (Chelsea Heights), Dale Binks (Tyabb), Ethan Rahilly (Tyabb), Simon Rahilly (Tyabb), Gerard Brown (Goldfields, WA), Shane Patterson, Dale Eames, Jayden Grose (returns).
Mornington
Outs: Kyle Brouwer, Will Goosey, Byron Holt, Luke Lewis, Kallum Searle, Anthony Simpson, Adrian Speedy, Michael Williams.
Ins: Alex Gear (AFL Barwon), Ryan Hines (VAFA), Joel Miller (AFL Caprocornia), Hayden Parkinson (NTFL), Greg Pullen (SFL), Mitchell Stansborough (AFL Mackay), Dale Whelan (VFL).
Mt Eliza
Outs: James Freeman, John Meesen, Blake Mullane, Ricky Plummer, Will Turner, Scott Simpson, Michael Lourey, Jacob Weitering.
Ins: David Barton (EFL), Matt Davis (AFL Barwon), Ben Landry (NEAFL), Justin Van Unden (EFL).
Pines
Outs: Stephen Ryan, Will Casey.
Ins: Jason Cooper (EFL), Aaron Edwards (Richmond), Luke Potts (VFL), Darren Ramsdale (returns).
Seaford
Outs: Adam Rose, Tommy Shaw, Mitch Uaongo, Mitch White.
Ins: Pat Cadd (Pearcedale), Chris Fortnam (Pearcedale), Hayden Harvey (SFL), James O'Neil (WRFL), Marc Thomspon (Ellinbank), Dean Williamson (SFL).