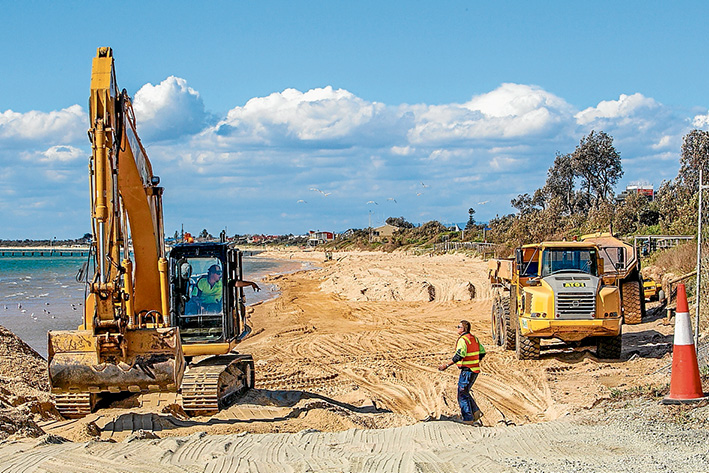 GOVERNMENTS will not protect houses affected by rising seas, says peninsula foreshore committee member David Gill.
Mr Gill spoke to The News after attending the 2015 Australian Coastal Councils Conference at the RACV resort in Cape Schanck mid-March, which was hosted by Mornington Peninsula Shire and Frankston Council.
The conference was convened by the National Sea Change Taskforce and brought together scientists, academics, disaster planners, engineers, economists, policymakers and other specialists as well as observers.
Speakers came from the CSIRO, universities, business groups, research forums, planning authorities and local governments from around Australia.
Local speakers included Mornington Peninsula Shire mayor Cr Bev Colomb, Frankston mayor Cr Sandra Mayer, Mornington Peninsula tourism board's Tracey Cooper, shire coastal planner Virginia Brook, shire Abo­riginal cultural heritage officer Adam Magennis, Frankston Council coast erosion planner Jeska Dee, and leisure planner Simone Bonella.
Mr Gill said Victoria's Coastal Strategy Plan made it plain "governments will not be able or willing to protect private assets, including houses, so we need a Future Fund-type source of money" to deal with coming challenges.
He said authorities were "planning for the effects of climate change including an eighty centimetre sea level rise by 2100 as well as a drastic increase in fire risk in populated areas".
"Coastal areas are experiencing booming population growth. For example, in 1956 there were 20,000 people on the Mornington Peninsula. By 2011 there were 150,000. This is happening around Australia in coastal areas resulting in enormous pressure on infrastructure and habitat.
"We need a fund to cope with storm events, severe erosion, beach renourishment, habitat maintenance and scientific data collection – to enable a database for dollar value assessment of priorities instead of ad hoc, wasteful and inequitable spending of limited resources.
"For every dollar appropriately spent, a saving of three dollars is possible – instead of fixing problems after they develop."
Mr Gill, president of Balnarring Beach Community Association and a former member of foreshore committees in Hastings and Somers, said Balnarring Beach's foreshore committee had an annual budget of $400,000 from camping fees but "our equally deserving neighbour Somers has virtually no income because camping reserves are on the other side of the boundary".
He said coastal management in Victoria was unnecessarily complex. "The state's coastline has 30 main authorities and 200 local committees of management. The peninsula has 192km of coast or about 10 per cent of Victoria's total. Frankston has 11km.
"The shire has 64km of coast under its control with 10 coastal reserves and nine committees of management. It punches way above its weight in protecting the coastline. The rest is 'controlled' by Parks Victoria and the state environment department."
Mr Gill said 96 per cent of Victoria's coast was in public hands. "I have been involved, like many others, in public committees of management and witnessed:
The hands-on work and long hours of volunteers.
Inappropriate political appointments to committees of management.
Ignorance of connective ecosystems.
Inadequate planning frameworks and policy fragmentation.
Lack of and inequitable distribution of resources resulting in a failure to protect our coastal asset.
Fire risk acerbated by climate change and seen by CSIRO scientists as threatening higher population areas in the future.
"The lessons of the recent fire in highly populated Hastings, which affected Crib Point with its 'one road in one road out' layout, displayed the need for a rethink of 'leave early' warnings when a fire starts nearby and residents leave by car, only to find they are still in fire danger due to traffic congestion.
"Recent surveys that were discussed at the conference have defined what Victorians want from our beach areas:
Passive, relaxed activities with family.
No big developments.
Retention of coastal vegetation and coastal village character.
"Victorians respect and enjoy living near and visiting our coast. Let's make sure this continues."
He said keynote speaker Lisa Neville, Victoria's Minister for Environment, Climate Change and Water, called for better funding and coordination through a new Marine Coastal Act "after a period of apathy and severe cutbacks by state and federal governments".