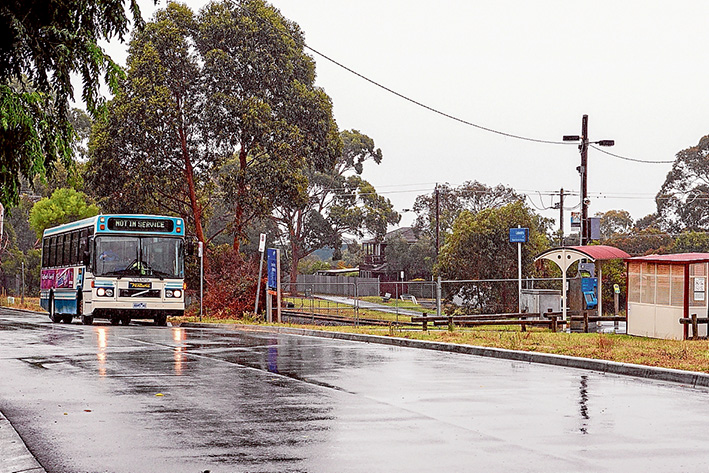 THE Stony Point rail line has been closed indefinitely after boom gates did not close for approaching trains twice in the past few weeks.
Boom gates at the Graydens Rd level crossing failed to close in the first week of March. Another gate malfunctioned at the Mornington-Tyabb Rd level crossing last week.
The latest safety scare comes after several boom gate malfunctions last year forced Metro to pull single-car trains from the line last year ('Line call after gates glitch', The News 2/9/14).
At the time it was believed the single-carriage trains were not large enough to trigger the closure of boom gates and two-car sprinters remained in service.
Metro now blames "track contamination" for the boom gate faults.
"Debris such as sand, leaves or rust interferes with the wheel to rail interface, and as such interferes with track detection of a train," Metro spokeswoman Larisa Tait said.
"On Monday 30 March, we took the precaution of suspending the line indefinitely, replacing train services with buses. At no point were any services in danger of collision with cars as our train drivers picked up the faults before proceeding through affected level crossings."
Ms Tait said Metro had decided to close the Stony Point line until it finds "an engineering solution".
The installation of axle counters along the track, which do not rely on wheel to rail touch points, could be a solution to the ongoing boom gates glitch, according to Ms Tait.
Hastings Liberal MP Neale Burgess said the line closure is "a nightmare" and he is speaking to Metro every day about reopening the line.
Mr Burgess noted the BlueScope train, used to transport steel products to and from its Western Port plant, is still travelling along the Stony Point line.
"At night, they're manning the Tyabb crossing to allow the BlueScope Steel train through," he said.
"It's fine for them to man it for a commercial organisation but not for passengers – that's not good enough."
The MP was quick to hose down suggestions Metro may seek to permanently close down the Stony Point line, which runs just seven train services a day.
"There's no way we'd allow that to happen," Mr Burgess said.
Metro told The News it is working to reopen the Stony Point line "as quickly as possible".
"We will have a better understanding of the duration of disruption after more detailed evaluation takes place this week," Ms Tait said.
Buses have replaced trains to transport passengers along the Stony Point line.
Ms Tait apologised for the "inconvenience to our Stony Point line customers".
"We are sorry for the disruption to services."