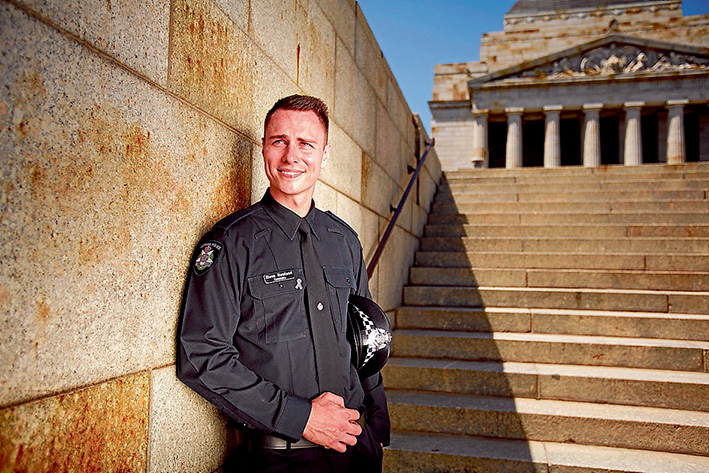 JUST as he is every Anzac Day, Constable Steven Newland will be at the Frankston Dawn Service with his dad, brother and three uncles.
They go to pay their respects to those who died in World War One – but this year the service has extra meaning for them.
In October, Constable Newland was told by Victoria Police's Historical Services that his great grandmother's uncle, Sergeant Herbert Leslie Newland, was one of 138 Victoria Police officers who served in the war.
Sergeant Newland, who joined in 1912, was among the troops who left Melbourne in the first convoy in late 1914. He served as a bombardier with the 1st Division Artillery and returned home in October, 1918. He was reappointed into Victoria Police on April 1 1919.
Constable Newland said it was a "shock and nice surprise" to find out someone in his family had served with Victoria Police. "I knew there were four brothers in the family who served in World War I but didn't know much about them and nothing about Herbert being a police officer before and after he went to war."
Constable Newland, who works at Rosebud Police Station, had contemplated a career with the Australian Armed Forces before joining Victoria Police in January last year. "I had gone through the recruitment process and was only a signature away from joining the army but decided I wanted a job where I could go home to my family each night," he said.
"I always wanted to serve the community and decided policing was a better option for me. Herbert, like many others, made a huge sacrifice leaving his wife and two children at home to fight for his country."
To celebrate the Anzac Centenary, the Victoria Police Museum will launch an exhibition in June on Victoria Police officers who went to war.
Police Life Magazine