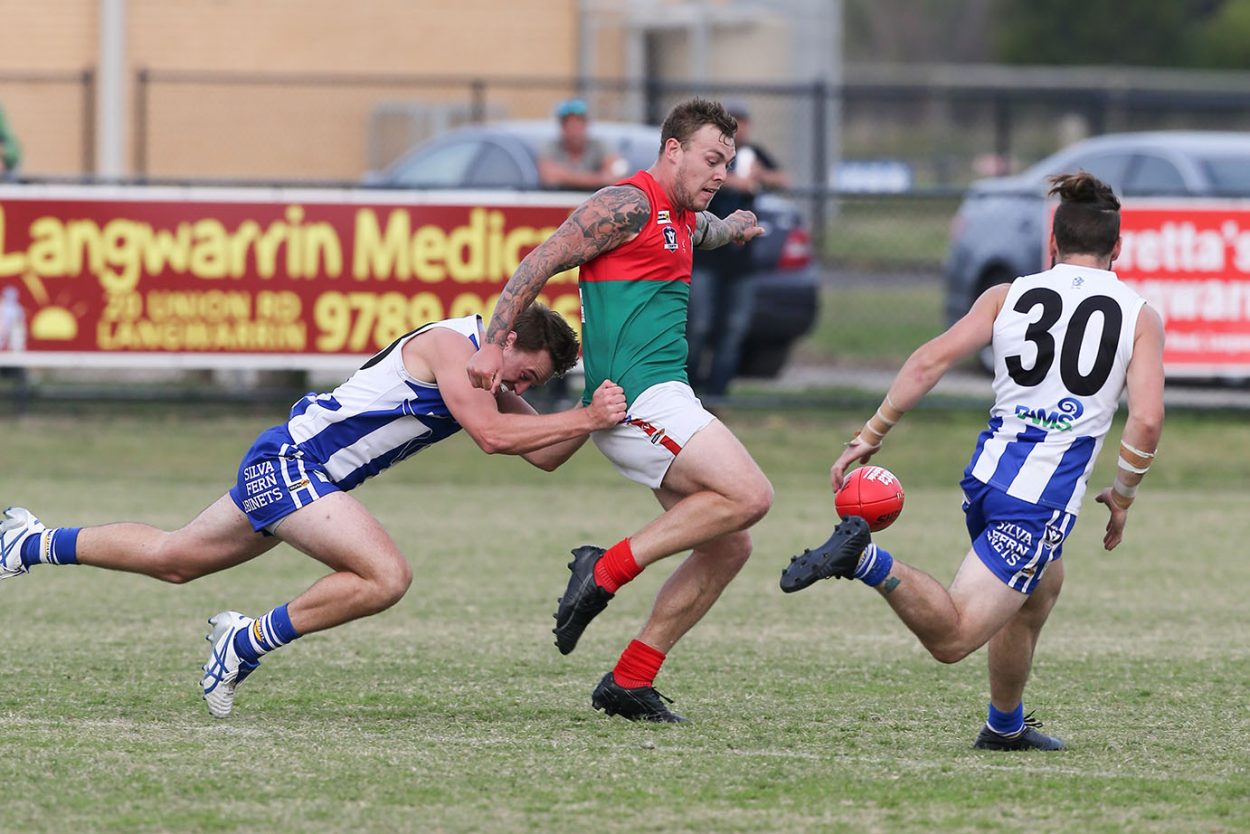 Footy's back! Pines season off to a flyer with win over Langwarrin. Pic: Gary Bradshaw
MT ELIZA proved that opposition teams weren't simply making up the numbers after knocking over reigning premier Frankston YCW on Saturday.
The Redlegs led by as much as 50 points in the third quarter before the Stonecats hit back in the last to give the scoreboard some respectability.
There had been plenty of talk about the Stonecats leading into the opening round and many believed that they were head and shoulders above everyone else.
After all, the Stonecats had added Dromana premiership players Daniel Waddell, Anthony Bruhn and Paul Minchington into the line-up, Lew Roberts returned and Luke Collins was a great get from Sale, despite not playing on Saturday.
The only notable outs were Dale Carroll and Anthony 'Bundy' Barry (Western Bulldogs VFL).
However, at quarter time at Wooralla Drive, the scoreboard (5.2 to 2.1) suggested we may have got it wrong.
And despite the solid start, Mt Eliza did not ease up, leading by 38 points at half time and 40 points at three quarter time.
Frankston YCW came back in the last quarter when Mt Eliza had put the cue in the rack, eventually going down by 19 points, 11.14 (80) to 15.9 (99).
A jubilant Mt Eliza coach John Georgiou said the result was just reward for a strong preparation.
"We had a solid pre-season and opted to really test ourselves during the practice matches," Georgiou said.
"That preparation really set us up to take the season on and I think the boys backed themselves and believed in each other to have a good season.
"To beat a side like YCW, you need an even spread amongst the whole team and that was the most pleasing thing out of the game – everyone contributed.
"Justin (Van Unen) may have kicked eight goals but it was the work done up the ground that resulted in those opportunities.
"Don't get me wrong, Justin was sensational and very hard to stop but it (the result) wasn't all about one player.
"Last year we were predictable in attack and this year I'd like to think that we have a few more options, which will give opposition sides a lot more to think about, than simply stopping Scott Lockwood (kicked three goals)," Georgiou said. Many thought that the departure of John Meesen might hurt the Redlegs but Matt Lillie took the number one ruck job again and was superb, while Sammy Gill and Rohan Heasley were at their best.
Kyle Hutchison, as well as Minchington and Bruhn, booted two each for the Stonecats while Craig Nankervis and Ash Eames were named amongst their better players.
Frankston YCW coach Scott Mathers said before the game that whilst many were talking his side up, he didn't believe there was a margin between his side and the rest of the competition.
"You can always look good on paper but it's how you get the job done on the ground that matters most," Mathers said.
"Last season matters little in 2015 and we all start equal. Let your guard down against any team and you'll find yourself on some trouble," Mathers said.
Bonbeach hit back from its horror defeat on Good Friday and inflicted a nasty wound into Seaford.
The Sharks, absolutely depleted after losing more than a dozen senior players over the pre-season, led at every change over the Tigers and restricted them to just 6.10 for the match.
Chris Bryan booted four goals and is building into the season after a long lay-off, while son of a gun, Jackson Sole, along with Nathan Robinson with two goals were outstanding for the winners.
Darragh Chadwick kicked three for the Tigers while Chris Fortnam and Ben Crowe stood up over the four quarters, as did teenager Rourke Fischer, who is VFL-listed with Collingwood.
The result was a nasty one for the Tigers, who went into the game as favorites.
Bonbeach won 12.10 (82) to 6.10 (46).
In the worst game over the weekend, Pines made it two wins in succession after restricting Langwarrin to just five goals for the game.
Pines didn't kick their first goal until midway through the second quarter, however, booted five goals to three after the long interval to win 7.9 (51) to 5.7 (37).
Kangaroos coach Gavin Artico said after the game that it was one of the worst games he had been involved in.
"It was a pretty tough day at the office. The game was riddled with mistakes, blokes fumbling, missing targets, it was very ordinary," Artico said.
"Pines just made more of their opportunities when it counted."
Langwarrin full forward Matty Dimkos again went down with a hamstring injury while Andrew Withers, the Kangas cleanest disposer of the footy, tweaked a knee.
In positive news for the Kangas, Rikki Johnston, the obvious heir apparent to Artico, shut down Aaron Edwards and Nick Hammill kept Guy Hendry quiet.
Luke Potts was a star for the Pythons, as was Taylor Strachan in the ruck and Jimmy Messina around the ground.
Mornington booted 14 goals to two after half time to thrash Karingal 21.13 (139) to 6.9 (45).
Dale Nolan booted five goals and a further 11 players contributed on the scoreboard for the Doggies.
Adam Symes and Ben Wells were two of the best players on the park while Ben Clements also made a solid contribution to the demolition.
Hadley Tomamichael kicked three for the Bulls, while Aaron and Grant Paxton collected the top votes.
Unfortunately, it's going to be another long season for the Bulls.