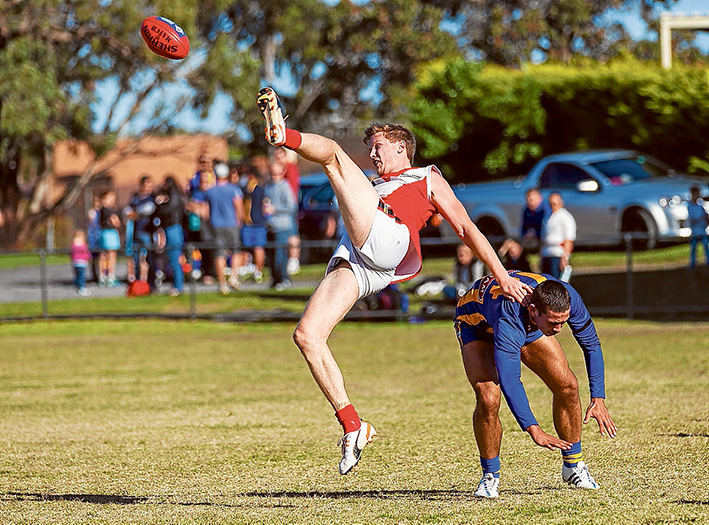 IT was billed as the match of the round – Somerville versus Red Hill.
The Eagles at home and with their well-documented list of recruits, playing in their fifth game together (including three practice matches).
Red Hill, a finals team in 2014 with a list on paper that had improved with the likes of Michael Chaplin and Matt Vagg joining them in recent weeks.
At quarter time, it appeared as though the Hillmen were going to have too much cohesion, willingness for the contest and team polish for their opponent. At the first change, Red Hill was 4.2 (26) and Somerville hadn't scored, despite having ten inside 50 entries each.
After quarter time, it was 11 goals to three in favour of Somerville.
Only once, for a five minute spell in the opening minutes of the third quarter, did Red Hill look competitive after quarter time. With scores even at half time, Red Hill had four or five shots on goal early in the third and missed them all.
From there, Somerville tightened the screws and began to dominate all over the ground.
We watched on last season as Rye's list of recruits worked their way into the season and they pushed to the very end of the year, getting much better along the way.
There's no doubt that the Eagles will get better as the season progresses. Truth is though, they are pretty bloody good right now.
Somerville made a usually flawless, disciplined, unrelenting, organised footy side in Red Hill look underdone, apprehensive, and motionless. We know that's not the case but it shows how unrelenting Somerville were.
The Eagles' pressure was enormous, its skill level crisp and its organisation breathtaking. This isn't a team of stars thrown together, this is a cohesive team wanting team success. It was evident in the rooms before the game, for the two hours they played and after the game. Winning makes life easier but the feeling was enthralling.
Every Somerville player contributed to the win. There's no question that the three best players on the ground were the three recruits, Timmy McGennis, Scott Simpson and Adrian Speedy, however, from Matty Maltman who kicked three goals to Jacob Wilson who had a heap of it down back and Jake Ryan and Travis Bravo playing significant roles, the Eagles were all over their opponents.
Simpson ruck roved all day and was a star, McGennis threw off a couple of tags and Speedy was the best of them all, providing enormous run from half back and setting up goals running through the middle.
Red Hill had players go in and out of the contest. Skipper Michael Dillon only had five touches in the opening half but lifted when he needed to after half time and finished with 21. Daniel McNamara was the side's best player over four quarters, Michael Mock had the better of Tom Shaw and restricted him to three goals, despite the team having 49 to 31 inside 50 entries. Tom McEnroe and Jonah Siverson were impressive.
Red Hill over possessed the footy going through the middle of the ground and played indirectly. This allowed Somerville to press, pressure and cause the turnovers. At a minimum, five Somerville goals came directly from Red Hill turnovers in the middle of the ground.
The Eagles are a side to be reckoned with, winning 11.12 (78) to 7.10 (52).
Dromana's legendary premiership coach Doug Koop said his club needs to concentrate on what it has at the club, not what it doesn't have, following its demolition of Tyabb on Saturday.
The Tigers smashed the Yabbies 27.14 (176) to 4.10 (34).
Koop said there was little he could do about the players that have left the club.
"All of those players have gone for different reasons. I feel sorry for the club that they have left because they are the ones who have spent the time, effort and money to either get them here or develop them as juniors," Koop said.
"The fact of the matter is the best sides/clubs over the past decade in Narre Warren, Frankston YCW and Sorrento are on the back of them being able to retain their list. Most players at these clubs have played in three, four, five premierships.
"I guess Rye is a classic example of trying to put together a premiership side every two years – it just doesn't work.
"So what we have is a very very young group of players, who are fantastic kids wanting to learn. We need to keep developing them and giving them opportunity.
"A young boy named Sam Fowler, who played Under 16s last year and kicked a few on the weekend for us (four goals), flew down the wing on Saturday, had a couple of bounces and the crowd loved every minute of it. However, when he got within range, deep in the pocket, he sprayed the kick.
"I gave him a serve, as I would with any player. Five minutes later, he did exactly the same thing, was deep in the pocket and instead of blazing, he turned himself inside out to get it back to the fat side of the ground.
"That's the kind of excitement that we have around the Dromana Football Club right now.
"Other than Sorrento, Rye and Somerville, and perhaps Rosebud, I think the final one or two finals spots are there for the taking. We're certainly aiming for one of those spots," Koop said.
New recruit Matt Jones booted five goals for the Tigers while Christian Ongarello was at his brilliant best.
"Jones is a tough player. Loves the contest and body contact. He's got some tatts and blokes with tatts are usually tough, however, this bloke is really tough," Koop said.
Rosebud set up its 14.12 (96) to 10.10 (70) win against Crib Point with a five goal to five behind third quarter.
Jason Bristow booted three goals for the Buds and Jackson McRae and Ben Dwyer were named in their best players.
New face Matthew Wappett was the Magpies' best, along with Waide Symes and Dean Kairies.
Devon Meadows pushed Sorrento for three quarters, trailing by the smallest of margins at three quarter time, however, the reigning premiers booted seven goals to two in the last to win 16.12 (108) to 11.8 (74).
Myles Pitts booted five and Leigh Poholke three for the Sharks while Glenn Michie snagged five for the Panthers. Dylan Mitchell and Corey Walker picked up the top votes.
Rye inflicted even more pain on Pearcedale with a 97-point hiding, however, it came at a cost.
Simon Taylor and goal kicker Adrian Gileno both went down with hamstring injuries.
Ryan Mullett, who was building last week, was the best player on the ground, Andrew Dean booted seven goals and Dean Millhouse was dominant also with six.
Dylan Hoare and Daniel Heijden were given top votes by Pearcedale.