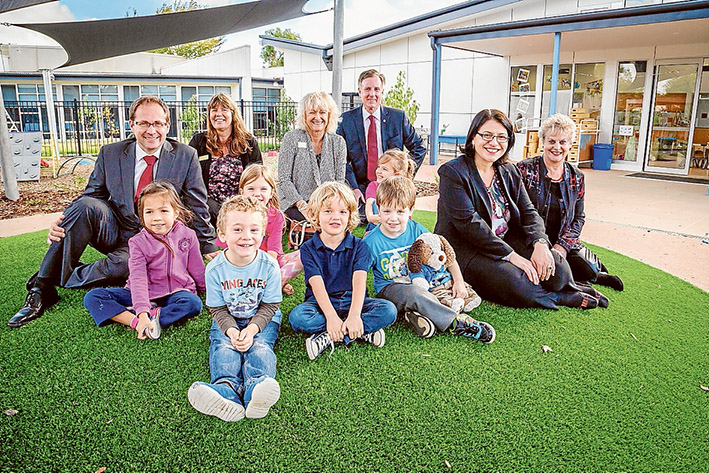 AN expanded Bentons Square Kindergarten was officially opened last Wednesday by the state government's Minister for Families and Children Jenny Mikakos as Labor and Liberal politicians put aside their differences to celebrate the building of the $1 million centre.
The preschool's second "licensed kindergarten room" provides space for 33 children and was built with $600,000 from the former state government and $400,000 from Mornington Peninsula Shire with, according to the shire, "support from Community Kinders Plus and Bentons Square Community Centre". (Community Kinders Plus manages 18 preschools for the shire and Frankston Council.)
The kinder is next to the community centre, which was opened by the shire in 2006 to service the rapidly growing Mornington East community.
The state government money was promised in late 2012 by the Coalition government's Minister for Children and Early Childhood Development Wendy Lovell. It was part of $40 million for 92 services statewide.
Mornington MP David Morris, who attended the opening, said Ms Lovell had fought hard to win the money and it was good to see the project come to fruition. "There were now no children on the kinder's waiting list," he said.
Shire mayor Cr Bev Colomb said the second room "was added to the facility in 2014 with extensive landscaping and improvements to outdoor play spaces".
"The centre is in an area of high population growth and is now positioned to better meet the needs of its surrounding community."
She said the second room would provide an opportunity to "expand the inclusive program operated in partnership with Biala Peninsula", and accommodate another group of four-year-olds and an additional three-year-old group.
Cr Colomb's Briars Ward colleague Cr Anne Shaw said the shire had designed the building to allow "for this kind of extension". It would see the kinder "offer four-year-old children a 15-hour program rather than a 10.5-hour program", she said.
Kinder kids took part in the official opening.