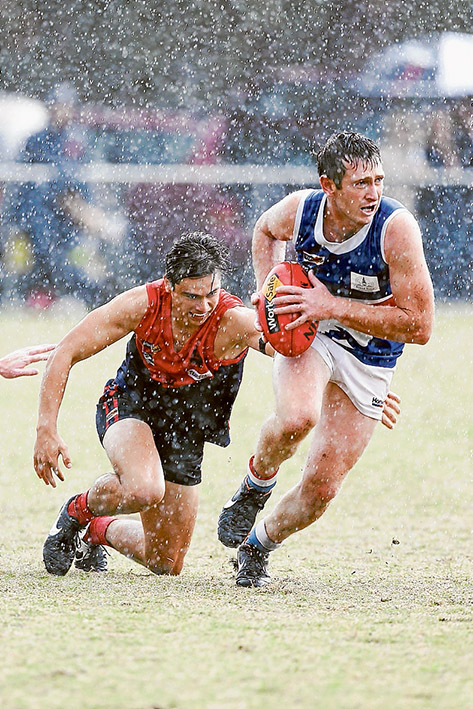 MT ELIZA has started the 2015 Peninsula League season in blistering fashion after knocking over Mornington on ANZAC Day.
The Redlegs have now beaten the two 2014 grand finalists in Frankston YCW and Mornington in their first three games, as well as Bonbeach, who played in the Preliminary Final last season.
In a tight and scrappy affair, the Redlegs simply used the football a lot more effectively when they went forward, giving them a 9.6 (60) to 6.9 (45) victory.
Despite losing the clearances and having less inside 50 entries, the Redlegs were much more efficient when they got into their attacking zone.
Mornington opted to kick long and hope when they went into attack. The Redlegs lowered their eyes and hit up players in better positions.
While a Mt Eliza win against Mornington is always sweeter than any other win for supporters, it did come at a cost.
After kicking a bag of goals in the opening three rounds, forward sensation Justin Van Unen went down in the second quarter with a hamstring injury.
Although it was a tough day for forwards, Van Unen had already managed to kick two goals in the opening quarter and a half.
It was a hard game of footy in very tough conditions. At some stages throughout the match, it was tough to see from one side of the ground to the other.
Mt Eliza coach John Georgiou has said previously that not having injuries has helped with the structure of his team.
"Last year our hands were tied a little in terms of structure, however, having a healthy list allows us to play the likes of Sam Gill and Darren Booth behind the footy," Georgiou said.
Rohan Heasley was awarded the Anzac Day medal after a terrific display.
However, despite getting the award and nudging out others for the top award, there really wasn't a player who was head and shoulders above any other.
A lot of players came in and out of the game and it was probably Heasley who did more for longer.
Mornington man mountain Michael Gay dominated in the ruck, however, was almost ineffective.
Gay clearly won the taps, however, rarely did he hit the ball to advantage. There was a real opportunity due to his domination to bash the ball forward into space and allow his runners the opportunity to run onto it.
When the game was there to be won, again Mornington failed to throw caution to the wind.
The Doggies played safe footy despite trailing and didn't take any risks. They were better off trying something different and going down by five goals rather than be comfortable with a 15 point loss.
A loss is a loss.
The day was about Mt Eliza, however, and they thoroughly deserved the four points.