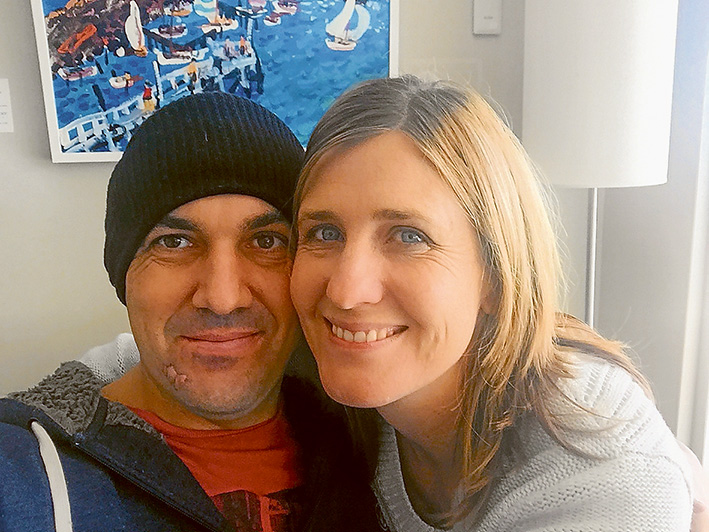 IT was just an early morning bike ride to start the day on Friday 6 March. But when Luke Matthews' was hit by a concrete truck as he was riding along Beleura Hill Rd, Mornington, a frantic battle for life began.
Mr Matthews was placed in an induced coma and airlifted to The Alfred. The 34-year-old Mt Eliza man was operated on for head and facial injuries, including the removal of part of his skull to relieve swelling on his brain.
Family friend Rowena Beach told The News at the time that doctors were only giving Mr Matthews a 50 per cent chance of survival.
"If Luke does pull through, it appears likely we are looking at a lifetime of disability," Ms Beach said.
In the days that followed, attempts to bring Mr Matthews out of the induced coma failed; his body reacting badly when doctors tried to lower his sedation levels.
"Things took a turn for the worse when a serious chest infection set in, which is a side effect of having the breathing tube in," Ms Beach said.
"It was terribly difficult. Luke has three young kids. The fear and uncertainty they face is just heartbreaking.
"Luke's wife [Karen] has to pick up the pieces and carry on as well as she can."
Mr Matthews' family stayed by his side and hoped in the face of a bleak future.
After about a week, doctors managed to slowly bring him out of his induced coma.
The first victory was a simple squeeze of a hand that showed that Mr Matthews could respond; a huge achievement considering the extent of his injuries and the fact his left side was still paralysed.
Then Mr Matthews' eyes would start following people around the room.
Two weeks after the accident, Mr Matthews was moved from intensive care to a neurological ward and received his first visit from three very relieved little girls.
"The kids handled themselves very well. They were gentle and understanding of Luke's injuries. As any parent would know, asking a four-year-old to be gentle is quite a task," Mr Matthews' wife, Karen, said.
Nearly two months since the accident, Mr Matthews is back home with his family. He arrived home to his wife and daughters on Wednesday 29 April after making a remarkable recovery against the odds.
"We are thrilled with Luke's progress," Mrs Matthews said.
"Although he has made a remarkable recovery, he still has a lot of healing to do.
"Initially, the neurosurgeons gave him a very slim chance of recovery so he has surprised everyone.
"While the critical stage has now passed, it is still very early days in terms of healing. Recovering from a brain injury takes many months and years and Luke will continue his rehabilitation at home for the foreseeable future."
Mr Matthews will also require surgery in August to replace two sections of skull that were removed after the accident.
"We are very very lucky and eternally grateful to have had such an amazing team of paramedics, surgeons, ICU staff and rehabilitation staff who together ensured an optimal outcome for Luke," Mrs Matthews said.
"But Luke's incredible determination and will to live cannot be underestimated.  He has shown amazing strength, willpower and desire to be around to watch his little girls grow up."
Mrs Matthews is also keen to thank to wider community for its support.
"It has been overwhelming. I haven't had to cook a meal in nearly two months. The support has been phenomenal."
Mr Matthews' employer, ANZ Bank, has also indicated its intention to leave his role open for his eventual return, offering him an incentive to strive towards recovery.
"There are still some hurdles to get over," Mrs Matthews said.
"But where we are heading towards now is the best outcome we could have hoped for."
Friends of the family have established a Go Fund Me page is being used to raise much needed funds for the family.
The website is at gofundme.com/lukematthews