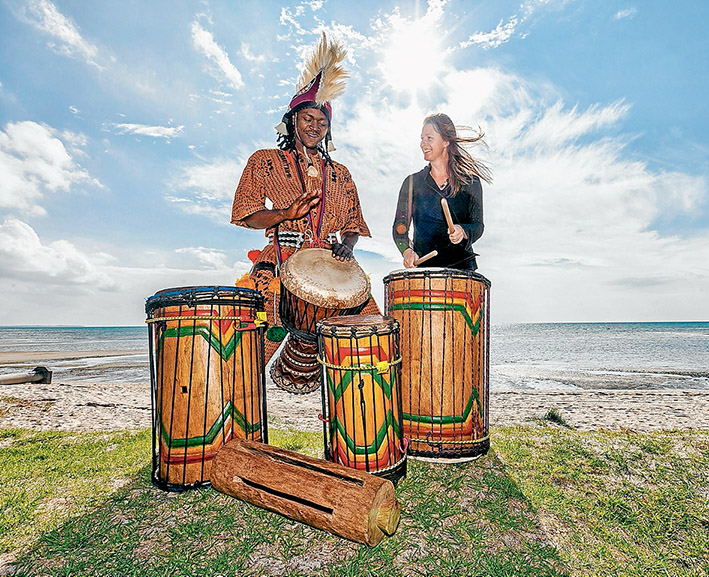 THE beat of African drums may soon be a regular sound at Tootgarook.
Amadou Kalissa, who followed in his musician father's footsteps when growing up in Guinea, West Africa, gave a demonstration of his drumming at the beach last week with wife Renee.
Now living in Seaford, the couple have close ties to the Mornington Peninsula and regard it as a natural place for African drumming.
Kalissa, who was taught the traditional rhythms of his culture, the Malinke people, by his father, is now passing on that knowledge to their 23-month-old daughter Aicha.
He says his father was for more than 20 years the lead kora (a stringed instrument) player in Les Ballets Africains.
While Kalissa, when aged 10, chose to also play the kora he was soon attracted to the djembe and dun duns (both drums), becoming a lead player in the seven-piece Les Petit Sorciers de Guinee.
This group was headed by Papa Kouyate, the percussionist for Miriam Makeba (Mama Africa). Kalissa began touring internationally with the group in 2001 and was chosen to go on his third European tour, performing besides Djembefola 'Fadouba Oulare in 2004.
Since arriving in Australia in December 2011, Kalissa has performed at many events and venues, including Moomba, the National Gallery of Victoria, VISIBLE concert, Rhythm of Africa, Emerge, Yackandandah Folk Festival, City of Melbourne 'Sunset Series', Federation Square Mainstage, White Night Festival, Swinburne TAFE, Mt Beauty Festival, Shepparton Kids Festival and Globe to Globe Festival. He has also performed live on PBS FM radio, Channel 10 News and Huey's cooking show.
The African drumming classes will be held at Tootgarook Community Hall, Barry St, call 0424 424 212.