HASTINGS FNC, by Phil Stone, club president
SENIORS REPORT
WE got another win and it has been great to see us start the season off the way we have.
Our first quarter was almost flawless we didn't miss many targets and played some really good footy. It's always good to get off to some really quick starts.
Unfortunately we played our worst quarter for the year in the second and let them back into it and went in at half-time just ahead.
We responded well to the pressure and played a good second half and the only thing that was going to stop us winning was missed shots on goal.
We kicked 2.10 in the third and should have put them away but didn't.
Again we showed some real grit and got the win and that's what counts.
Paul Rogasch was best on and showed great support and leadership. Dale Alanis was also good very lively up forward, kicking 1.5 and his pressure was great.
Colin Mcveigh was back in good form playing really well at centre half forward.
A winning culture is a good one and I feel with three wins we a building on this to make winning a habit.
Final score: Hastings 14.21 (105) to Dromana 12.8 (80).
RESERVES
Hastings got off to a great start with high intensity around the packs. The boys are playing a really good brand of footy which is exciting to see.
Simon Clancy was running rampant on his wing, Aaron Vinson was streaming out the forward line holding his grabs that were coming into the forward line with perfection by the midfield likes of Micky Cave, Ben Schroen and Chris Lehnman.
Our young and upcoming younger brigade of Harrison, Goodacre and the Sawocz brothers are really showing the way.
Old stager Daniel Lehnman is having a wonderful start to the year and it was great to see the lion-hearted performance of his brother Chris Lehnman back from suspension play a super game.
The rucks were awesome led by the skipper number 32 josh Ward and his brother in arms, Joel Standfield.
It was great to see club stalwart Jason Kestle in fine form on the weekend taking one handed hangers.
It was a great all round game by the Hastings boys. Let's make sure we all get to training as our spirit is wonderfully high.
UNDER 19s by Aaron Wilson
A tough loss to swallow as the Hastings Under 19s succumbed to a narrow 5-point loss against Dromana. A slow first half cost the home side as Dromana took the ascendency in the first quarter leading by 17 points.
From here on out, Hastings played catch up until the final siren. Full credit to the guys though as they reduced a 24-point lead to 5 points with not long remaining in the final quarter.
Stephen Williams, moved back to into the middle, proved an instrumental move as he found plenty of it and kicked two important goals. Forwards Dan Culnane and Liam Rogan were potent down forward and gave us plenty of opportunities.
Hastings will rue a missed opportunity but will take plenty of positives out of this encounter.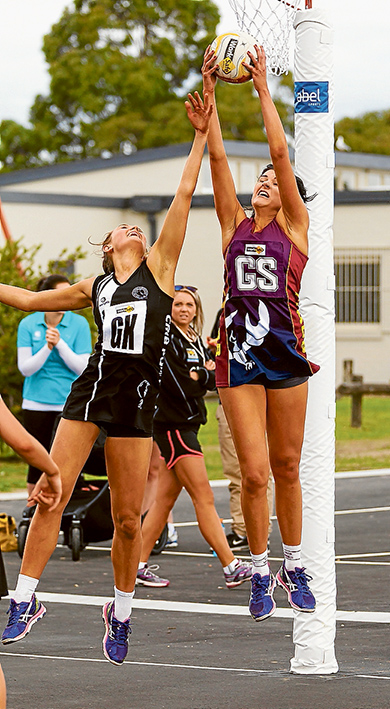 NETBALL REPORT
Hastings vs Dromana
This week we met Dromana who only fielded A and C grade teams meaning a few girls missed out on getting a game.
C grade worked hard all day in the defence end with Courtney McLean earning herself a best on court award. Turnovers were costly but the team is continuing to develop their skills to be able to transition the ball into the attack end and convert into goals on the board.
Well done to Rhiannon Hewitt and Brooke Easy for fighting the match until the very end.
A grade got off to a very slow start with Dromana dominating and Hastings turning over the ball and failing to put many goals on the board.
A few changes were made at half time which saw the girls come out and win the third quarter which was very encouraging to see.
Special mention to Taylah Strange going into defence to provide the team with more opportunities and Ebony Clark going into goals running rings around her opponent.
The end result did not go our way seeing us go down but continued hard work will these results turn around.
Our Next game is Away against Devon Meadows. Let's make sure we make the trip to Devon to support our footballers/netballers.
Upcoming functions: An Evening with Rosie Batty, Tuesday 19 May at 7pm, $1 coin donation.
BABBA, Saturday 30 May at 8pm, $30 per ticket. Tickets can purchased at the club.