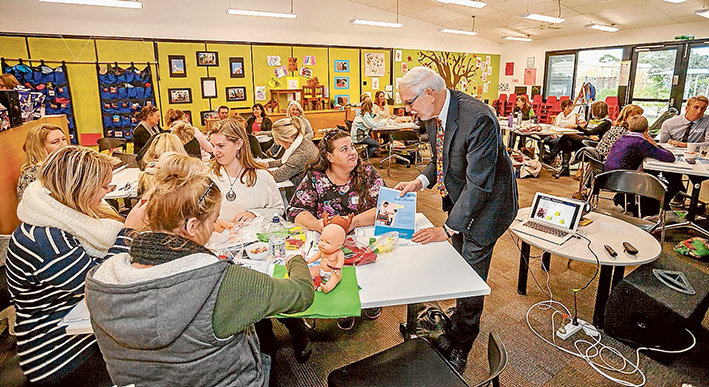 CHILDREN enrolling in Rosebud West primary schools in the next few years will benefit from a program making language development the priority.
Melbourne University professor Joseph Sparling launched his program at Seawinds Community Hub, Allambi Av, Rosebud West last week.
"The program responds to strong evidence that children who start kindergarten and school with developmental delays are at significant risk of underachievement in school," Seawinds Community Hub CEO Heather Barton said. "It offers a comprehensive, preventive approach to help children become not just school ready, but raring to go."
The pilot phase is being jointly run by Eastbourne Primary School, Seawinds Community Hub, Rosebud Literacy Village and Mornington Peninsula Shire.
The project, based on the evidence-based Abecedarian Approach, will roll out in three phases over the next year. The first will focus on supporting children's language development from birth, and employ a powerful approach to early language development.
"This innovative, evidence-based approach has, since the 1970s, helped children and their families in disadvantaged communities in the US, Canada, Eastern Europe, and now in Indigenous communities in Australia," Ms Barton said.
"A national study commissioned by the US Department of Education's Institute of Educational Sciences found that an Abecedarian Parent Program increased parent responsiveness to children – correlated with child literacy and social outcomes – as well as the likelihood of teen mothers re-engaging with education and training themselves."
About 30 educators and health professionals – from Seawinds, Rosebud kinder, Frankston Hospital, Anglicare, Rosebud Literacy Village, the shire library and Eastbourne Primary – are collaborating on the project.
Intensive training has been overseen by Melbourne University.  The project is being supported by Foundation 59, The R E Ross Trust, Rotary Club of Rosebud-Rye, George Hicks Foundation, the shire, and Growing Child Mornington.
First published in the Southern Peninsula News – 26 May 2015