NEPEAN LEAGUE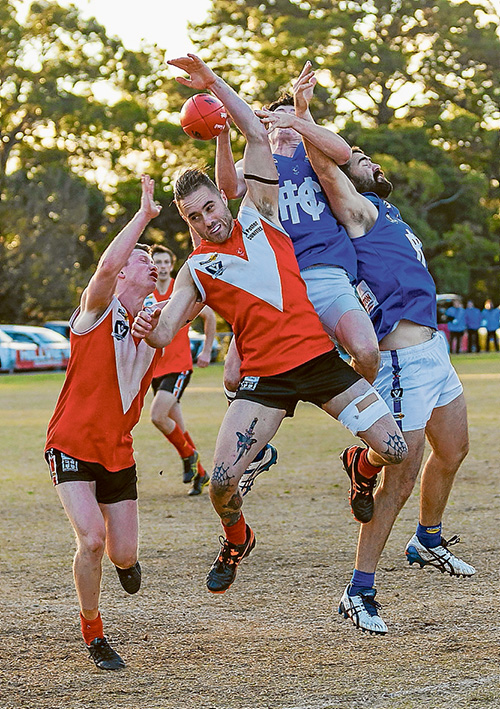 IT was certainly a day of upsets in Nepean League football on Saturday.
Crib Point came from 20 points down at half time and 15 points down at three quarter time to beat Sorrento at David McFarlane Reserve.
Dromana bounced back from an ordinary defeat the week before to beat Frankston Bombers, who had won two on the trot.
Up at Red Hill in front of the 1990 premiership side, the home side was smashed by Hastings.
Somerville, after a tumultuous week, went down by two goals against Rosebud in a low scoring, scrappy affair.
The two expected results went accordingly. Pearcedale restricted Tyabb to four goals and won by 63 points and at Devon Meadows, Rye had to work hard but got home by 22 points.
The ladder now sees four teams on 20 points, while Somerville makes up the five with 16 points. Sorrento and Dromana are outside the top bracket on three wins (12 points).
There was plenty of fireworks at Somerville in their match against Rosebud.
Rosebud midfielder Brad McDonald was reported by three umpires for allegedly head butting and striking in the second quarter.
However, despite playing one short for most of the third quarter, Rosebud was still able to kick four goals to three and lead by 24 points at the final change.
As expected, Somerville came back in the final quarter with the wind, booting 1.7 to one behind.
The Buds got the chocolates 9.15 (69) to 7.15 (57).
Rosebud coach Nick Jewell was understandably ecstatic with his team after the win.
"The reality is that we cannot get into a shoot out against teams. It's not our style and we are not going to win footy games like that," said Jewell.
"We need to slow the pace down, grind down and make it a bit of a slog. We were able to do that today against Somerville and the result went our way.
"You (Toe Punt) were spot on with what you wrote in the Footy Record about us being a scrappy side that doesn't play good looking football. The reality is that we're okay with that."
Greg Bentley was superb for the Buds as a stay at home forward and had ten shots at goal (he finished with three), while Rhys Bancroft was back to his sensational best after returning fom ankle surgery.
Nick Boswell started in deep defence and moved a little higher as the game went on. He was vintage in parts. Rob Forrest and Jason Bristow were superb for the duration.
Luke Rowe played his best game of the season for the Eagles with three goals and Scott Simpson and Tim Hirst also worked hard.
Somerville recruits Billy Rolfe and Tommy Simpson both played in the reserves as a result of the Player Points System.
Dromana wasn't great against Rosebud two weeks ago but by gee did they have a crack against Frankston Bombers on Saturday.
After a pretty even first half, Dromana lifted the tempo in the third quarter and broke clear with a four goal to two point term. The margin was 26 point at the final break.
Bombers kicked with the wind in the final term but Dromana stood tough, holding on for a comfortable 10.16 (76) to 7.16 (58) victory.
Hastings dominated Red Hill all game to record an easy victory, 13.10 (88) to 8.8 (56).
Joel Standfield and Paul Rogasch were sensational in the back half for the Blues while Col McVeigh and Josh Mulheron in the ruck also dominated proceedings.
Jason Kestle was back in the team for the Blues and finished with two goals. Coach Brendan Dunne missed with a hand injury. It's not the first one of these he has had.
Jake Mold booted four goals for the Hillmen while Paul Wintle was superb in defence.
Crib Point stormed home to overrun a flat looking Sorrento.
The Magpies trailed all afternoon, however, had much more run in their legs when the whips were cracking in the final term.
The Pies booted seven goals to one in the final 30 minutes of the game to win 15.12 (102) to 13.7 (85).
The win did come at a cost with star Waide Symes going down with a knee injury.
Dean Warry booted four goals for the winners and James Cook and Brad Arnold dominated.
Nick Diconza, Ben McCormack and Ryan Potter were the best of the Sharks.
Nathan Henley booted four goals for Rye and Brady Egan was sensational in the ruck as the Demons led all day to beat Devon Meadows.
The Demons kicked clear in the second quarter and were never headed, winning 12.11 (83) to 9.7 (61).
The game saw Rye coach and former Sorrento premiership player Josh Moore return to senior footy.
Jess Dehey returned to the Panthers after five weeks on the sidelines due to suspension, while teenager Luke Duhig showed he belongs in the seniors with two goals and a solid four-quarter performance.
Pearcedale booted 11 goals to one after quarter time to beat Tyabb 12.21 (93) to 4.6 (30).
Pat Heijden booted four goals and Ben Mitchell dominated in the ruck for the Dales while Kallum Searle played his best game for his new club after crossing from Mornington.
Justin Volk and Jake Anderson were the best of the Yabbies, while James Cottrell was among the best again.