PUBLIC comment is being sought on a proposed speed reduction in Coolart Rd, between Baxter and Balnarring.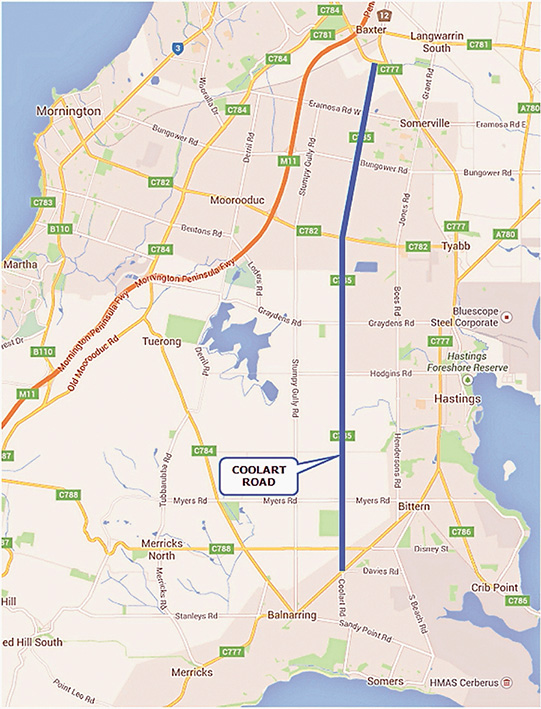 VicRoads is assessing a cut in speeds from 90kph to 80kph as "speed is a big contributing factor to the safety along this road".
It says the possible reduction is supported by Victoria Police and Mornington Peninsula Shire.
The 17.4 kilometre stretch of rural road between Frankston-Flinders Rd, Baxter and Frankston-Flinders Rd, Balnarring has "a significant crash history", VicRoads says.
In the five years from January 2010 to December 2014 it was the scene of 32 crashes in which people sustained injuries – including three fatalities.
Present road safety improvements along Coolart Rd include a number of roundabouts, the most recent at Bittern-Dromana Rd. A roundabout is being built at Hodgins Rd, Hastings.
VicRoads says a speed reduction would significantly improve safety along the road while only adding about 90 seconds travel time.
It says a speed reduction is the most effective short-term measure to improve safety, but that it will gauge the need for further infrastructure improvements in future.
VicRoads is seeking community feedback through a survey, which it says should take about five minutes to complete. The survey will close 5pm, 7 June.
Visit: Coolart-Road-Speed-Limit-Reduction-Survey
Hard copies of the survey will also be available from the Mornington Peninsula Shire Customer Service counter.