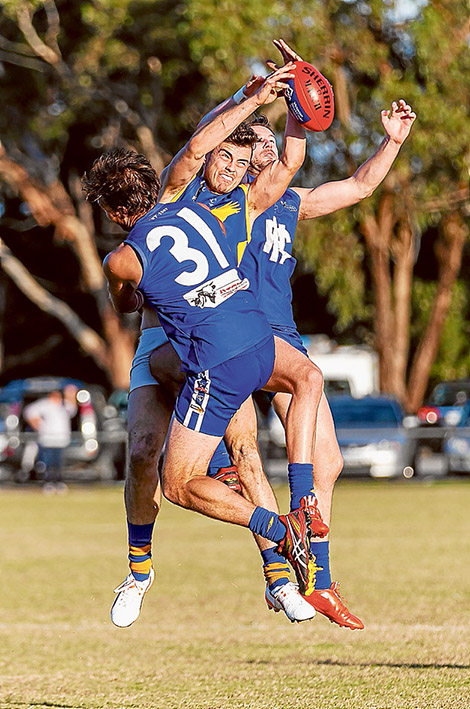 THE MPNFL-appointed Independent Tribunal handed down its Somerville Players Points System verdict last Thursday night as promised, but the league failed to pass that information onto clubs.
The panel members – Geoff Dempster (Northern Football League Board Member, former member of the AFL Community Football Board), Bob Beazley (MPNFL PPS Implementation Working Party member) and Andrew Swales (Independent Tribunal Chairman) – met as communicated with Nepean League clubs on Thursday night.
At this meeting, the tribunal determined that Somerville coach David Hirst was a two point player, not a one point player.
It is understood that the league had advised Somerville Football Club in writing on two separate occasions – in December 2014 and February this year – confirming Hirst was a one point player.
It is believed that communication came from former administrator Sue Jones and MPNFL general manager Jeff Jones.
As a result of the communication, Somerville has been playing Hirst as a one point player.
When Nepean League clubs called into league headquarters and made telephone calls to league offices on Friday, they were told that the tribunal had met but had not made its ruling.
However, a source close to the MPNFL informed The News on Friday that the decision was made and Hirst was a two point player.
The source also said that the Independent Tribunal was asked not to communicate with the media on the matter.
With Hirst determined as a two-point player, it means Somerville played with 40 points in its matches against Sorrento and Hastings. The PPS cap is 39 points.
Sorrento and Hastings now have the option to appeal the result of those game, which both lost.
Somerville is also expected to exercise its options of legal action, given they were given written confirmation that Hirst was a one point player.
This communication had significant impacts on their recruiting strategy.
Already, Somerville is forced to play key recruits in the reserves, given they go over the PPS. The latest ruling means that an additional recruit is forced to play reserves.
A Somerville source said that the league's inability to know their own rules was going to have a significant impact on their club.
"We have to sit down with players now and talk through what options we and they have," the source said.
The MPNFL told clubs they would inform them of the tribunal's decision this Friday, eight days after they made their decision.