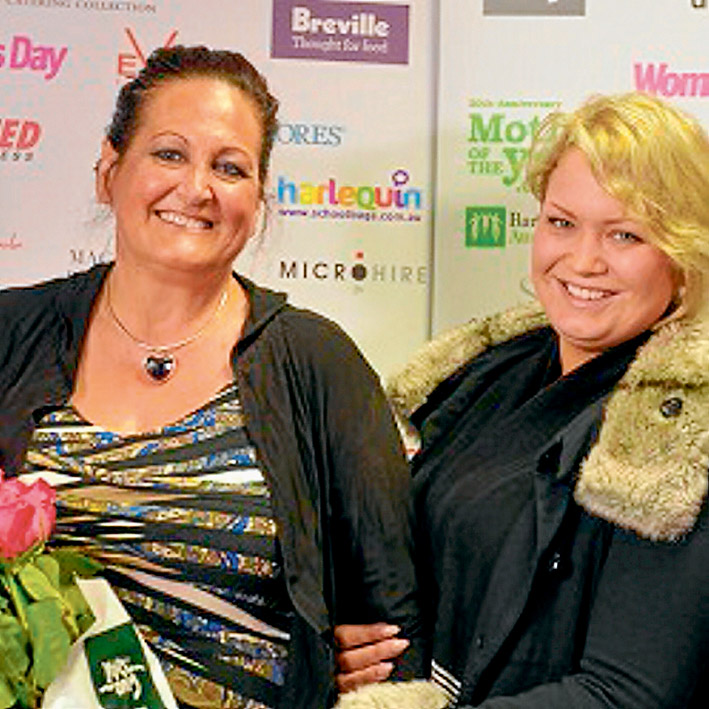 A MORNINGTON woman has been named a Barnardos Mother of the Year 2015 national finalist at a recent awards night in Sydney.
Barnardos Australia is one of the leading child protection charities in Australia.
Dreena Lawrence-Gray was presented with her award by the Prime Minister Tony Abbott and his wife Margie. She was nominated by her daughter-in-kind Lana Guest.
Ms Lawrence-Gray was a single mum who already had a "lively, rebellious teenager" when she made the decision to invite another one into her home. Lana Guest, then 17, was a troubled friend of her daughter's. Born to heroin-addicted parents, Lana was just two when her father died and her mother abandoned her to a life of mental, physical and sexual abuse.
Lana, now 22, nominated her foster mum in the award for choosing to take her in and look after her as one of her own – "baggage and all".
"I met Dreena when I was 17 after befriending her daughter, Rijana, who I had met out and about while I was living part time with my grandparents and part time on friends' couches," Lana said.
"I was also struggling with drug addiction and had just dropped out of school. I started spending more time with Rijana and Dreena asked me one day if I wanted to move in.
"I initially felt like a burden and wasn't too sure but, after much consideration, I decided I would and it turned my life around. Dreena made me feel like I was a part of the family and to this day I introduce her as my mother."
Under Ms Lawrence-Gray's watchful eye, Lana cleaned up her act, got a job and discovered the simple joy of family. "Dreena has opened so many doors for me and I hold her responsible for the positive changes I made to my life," she said.
"Without her huge generous heart and her beautiful family I would not be the person I am today – I might not even be here today at all."
Ms Lawrence-Gray also works for the Heart Foundation and school crossings Victoria.
"She is an amazing woman who is always helping out those in need and struggling – young people, women who are down on life, anyone in trouble – even though she herself is a single mother and has struggled financially to raise her own daughter," friend Therese Fletcher said.
"Her award for fostering young Lana is not the only time she has guided young people and help get them back on track in life."